Caryl Lesley Churchill (Women's Rights Activist/Playwright)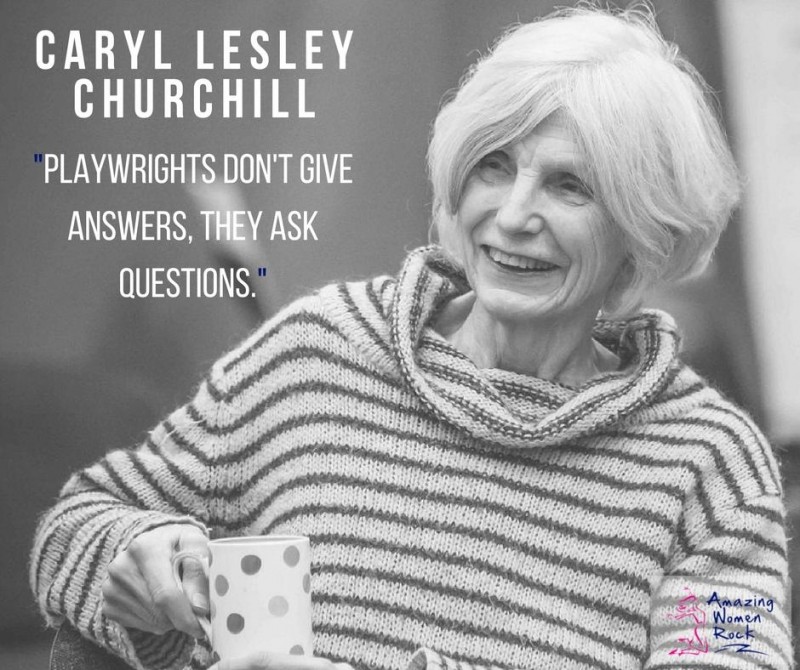 Caryl Churchill (born 3 September 1938) is a British playwright known for dramatizing the abuses of power, for her use of non-naturalistic techniques, and for her exploration of sexual politics and feminist themes.
Churchill was born in London, England, the daughter of Jan, a fashion model, and Robert Churchill, a political cartoonist. After World War II, her family emigrated to Montreal, Canada; Churchill was ten years old. In Montreal, she attended Trafalgar School for Girls.
In 1972, she wrote Owners, a two-act, 14-scene play about obsession with power. It was her first stage play and "her first major theatrical endeavour"; it was produced in London the same year. Churchill's socialist views are expressed in the play, a critique of the values that most capitalists take for granted: being aggressive, getting ahead, doing well.
She served as resident dramatist at the Royal Court Theatre from 1974–1975, and later began collaboration with theatre companies such as Joint Stock Theatre Company and Monstrous Regiment (a feminist theatre collective). Both used an extended workshop period in their development of new plays. Churchill continues to use an improvisational workshop period in developing a number of her plays. During this period, she also wrote Objections to Sex and Violence (1974).
Her first play to receive wide notice was Cloud Nine (1979), "a farce about sexual politics", set partly in a British overseas colony during the Victorian era. It explores the effects of the colonialist/imperialist mindset on intimate personal relationships, and uses cross-gender casting for comic and instructive effect. The play became successful in Britain and in the United States, winning an Obie Award in 1982 for best play of the year in New York.
Churchill gradually abandoned more conventions of realism, and her loyalty to feminist themes and ideas became a guiding principle in her work. She won an Obie Award for best play with Top Girls (1982), "which deals with women's losing their humanity in order to attain power in a male-dominated environment." It features an all-female cast, and focuses on Marlene, who has relinquished a home and family to achieve success in the world of business. Half the action takes place at a celebratory dinner where Marlene mixes with historical, iconic and fictional women who have achieved great stature in a "man's world", but always at great cost. The other half of the play, set a year in the past, focuses on Marlene's family, where the true cost of her "successful" life becomes poignantly and frighteningly apparent.
Softcops (first produced by the Royal Shakespeare Company in 1984), is a "surreal play set in 19th-century France about government attempts to depoliticize illegal acts."
Serious Money (1987), "a comedy about excesses in the financial world", is a verse play, chiefly written in rhyming couplets. It takes a satirical look at the vagaries of the stock market and its Thatcherite denizens. The play was highly acclaimed, perhaps in part because it played immediately after the stock market crash of 1987.
Icecream (Royal Court Theatre 1989) explores Anglo-American stereotypes.
In The Skriker (1994), Churchill uses an associative dream logic which some critics found to be nonsensical. The play, a visionary exploration of global ecology made through gender games, storytelling, distorted language and evocations of modern urban life, follows an ancient and shape-shifting death portent (The Skriker) in her search for love, revenge and human understanding.
"The prolific Churchill continued to push boundaries into the late 1990s. In 1997 she collaborated with the composer Orlando Gough to create 'Hotel,' a choreographed opera or sung ballet set in a hotel room. Also that year her surrealistic short play 'This Is a Chair' was produced."
Her 2002 play, A Number, addresses the subject of human cloning and questions of identity. Her adapted screenplay of A Number was shown on BBC TV in September 2008. Her recent play, Drunk Enough To Say I Love You (2006), takes a critical look at what she sees as Britain's submission to the United States in foreign policy.
In 2010, Churchill was commissioned to write the libretto for a new short opera by Orlando Gough, as part of the Royal Opera House's ROH2 OperaShots initiative. The resulting work, A ring a lamp a thing, played for five performances in the Linbury Studio Theatre at the Royal Opera House.
Her Love and Information, opened at the Royal Court Theatre in September 2012, directed by James Macdonald. It gained great critical and popular acclaim. The play, featuring 100 characters and performed by a cast of 15, is structured as a series of more than 50 fragmented scenes, some no longer than 25 seconds, all of which are apparently unrelated but which accumulate into a startling mosaic, a portrayal of modern consciousness and the need for human intimacy, love and connection.
She returned to England to attend university, and in 1957 she graduated from Lady Margaret Hall, a women's college at Oxford University, with a B.A. degree in English Literature. She also began her writing career there. Her four earliest plays, Downstairs (produced 1958),You've No Need to be Frightened, Having a Wonderful Time (1960), and Easy Death (produced 1962) were performed at Oxford by student theatre ensembles.
It was while raising a family in the 1960s and '70s that Churchill began to write short radio dramas for BBC radio. These included The Ants (1962), Not, Not, Not, Not Enough Oxygen (1971), and Schreber's Nervous Illness (1972). She also wrote television plays for the BBC, including The After Dinner Joke (1978) and Crimes (1982). These, as well as some of her radio plays, have been adapted for the stage.
Related Articles