Alice Ramsey (Driver / Maverick / Pioneer)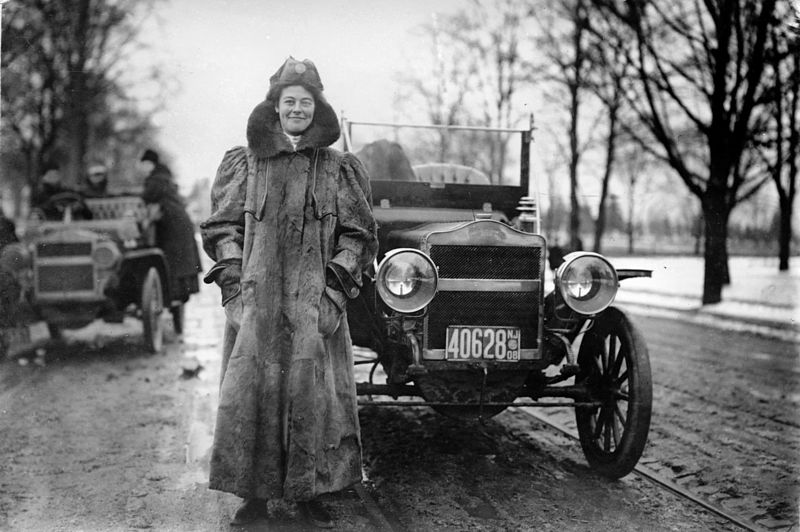 Alice Huyler Ramsey (11 November 1886 – 10 September 1983) was the first woman to drive across the United States from coast to coast.
Ramsey was born Alice Taylor Huyler, the daughter of John Edwin Huyler, a lumber dealer, and Ada Mumford Farr.
She graduated from Vassar College in 1907.
On June 9, 1909, the 22-year-old housewife and mother from Hackensack, New Jersey began a 3,800-mile journey from Hell's Gate in Manhattan, New York to San Francisco, California in a green Maxwell 30.
On her 59-day trek she was accompanied by two older sisters-in-law and another female friend, none of whom could drive a car. They arrived amid great fanfare on August 7.
The drive was originally meant as a publicity stunt for Maxwell-Briscoe, the carmaker. At that time, women were not encouraged to drive cars.
The group of women used maps from the American Automobile Association to make the journey. Only 152 of the 3,600 miles the group traveled were paved.
Over the course of the drive, Ramsey changed 11 tires, cleaned the spark plugs, repaired a broken brake pedal and had to sleep in the car when it was stuck in mud.
Along the way, they crossed the trail of a manhunt for a killer in Nebraska, a case of bedbugs Ramsey received from a Wyoming hotel, and in Nevada they were surrounded by a Native American hunting party with bows and arrows drawn.
In San Francisco, crowds awaited them at the St. James Hotel. Ramsey was named the "Woman Motorist of the Century" by AAA in 1960. In later years, she lived in Covina, California, where in 1961 she wrote and published the story of her journey, Veil, Duster, and Tire Iron.
Between 1909 and 1975, Ramsey drove across the country more than 30 times. She was married to congressman John R. Ramsey of Hackensack, New Jersey, with whom she had two children, John Rathbone Ramsey, Jr. (1907-2000) and Alice Valleau Ramsey (1910- ), who married Robert Stewart Bruns (1906-1981).
She died on September 10, 1983 in Covina, California.
On October 17, 2000, she became the first woman inducted into the Automotive Hall of Fame.
Related Links:
Alice Huyler Ramsey on Wikipedia
Related Articles