Abigail Washburn 
(Banjo Player
/Musician)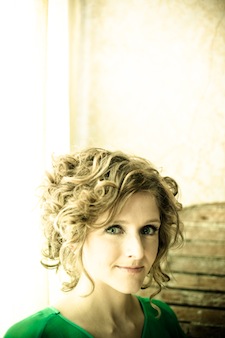 Abigail Washburn (born November 10, 1979 in Evanston, Illinois, USA) is an American clawhammer banjo player and singer.
She performs and records as a soloist, as well as with the old-time bands Uncle Earl and Sparrow Quartet.
Washburn was born in Evanston, Illinois and spent her elementary and part of her junior high school years in a suburb of Washington, D.C..
She attended high school in Minnesota, then attended Colorado College, where she was the school's first East Asian studies major.
Following this, she spent some time living in China, where she had dreams of being a lawyer (having first visited that nation in 1996). She then spent three years in Vermont before moving to Nashville, Tennessee.
Here she plays solo during a radio interview:
In Tennessee, she met KC Groves, one of the founding members of the band Uncle Earl and she went on to spend five years touring with the band. The "all G'earl" group has released two records on the Rounder Records record label, She Waits for the Night (2005) and Waterloo, TN (2007), which was produced by John Paul Jones of Led Zeppelin.
Her first solo album, Song of the Traveling Daughter, was produced by Béla Fleck and features Ben Sollee, a cellist, and Jordan McConnell, guitarist for the Canadian traditional and soul music fusion band The Duhks. Two songs were recorded in the Mandarin Chinese language, which she learned while living in China.
In 2005, Washburn returned to China with a group called the Sparrow Quartet, composed of Sollee, Fleck and Grammy Award nominated fiddler Casey Driessen. The group then recorded an EP, Abigail Washburn The Sparrow Quartet.
In 2008, Washburn and the Sparrow Quartet recorded a full-length album, Abigail Washburn and the Sparrow Quartet. It was produced by Béla Fleck and composed and arranged by the foursome.
After the release of the album, Washburn and the Sparrow Quartet turned their attention to touring North America, with appearances at festivals including New Orleans Jazz & Heritage, MerleFest, Bonnaroo Music Festival, Vancouver Folk Festival and others. They returned to China for performances during the 2008 Summer Olympics in Beijing.
The quartet was later featured on National Geographic Live and, in 2009, each participated in the Clearwater Concert, a benefit concert in honor of Pete Seeger's 90th birthday that featured many of the world's most well-known musicians.
Inspired by a 2008 volunteer experience for Sichuan Quake Relief in China, Abigail joined forces with Shanghai Restoration Project's David Liang in March 2009 to create Afterquake. The benefit EP (a portion of each sale benefits Sichuan Quake Relief) was released on May 12, 2009, the one-year anniversary of the 2008 Sichuan Earthquake.
Over the course of two weeks, Washburn & Liang recorded and produced the entire project, which features electronic mixes of student voices and sounds from the disaster zone, in Sichuan, China.
In early 2010, Washburn began recording her second solo album with producer Tucker Martine and collaborator Kai Welch.
Related Articles