Julie Burstein (Writer / Radio Producer)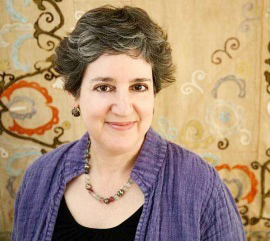 As a producer, Julie Burstein builds places to talk (brilliantly) about creative work.
Her book Spark: How Creativity Works, shares what she knows, and traces the roots of some of the twenty-first century's most influential and creative thinkers, including Joyce Carol Oates, Yo-Yo Ma, David Milch, Isabel Allende, and Joshua Redman.
Here's what her blog bio says:
I'm a writer, speaker, media producer and host with a passion for creativity in everyday life. In 2000 I created PRI's Studio 360, public radio's premiere program about pop culture and the arts, hosted by Kurt Andersen.

We won a Peabody Award for our American Icons show about Herman Melville's Moby-Dick, which you can listen to here. Studio 360 is produced by Public Radio International and WNYC.

Over the years, I've also worked as a producer and arts reporter at NPR and with Terry Gross at WHYY, I often guest-host for Leonard Lopate on his wonderful show on WNYC, and I've produced radio series for Carnegie Hall and the New York Philharmonic.

I led the Studio 360 team for many years, and the only thing that could take me away from the excitement of producing a weekly show was the opportunity to write the first Studio 360 book.

Spark: How Creativity Works is published by Harper.

When I'm not writing or making radio, or spending time with my family, I can usually be found in the pottery studio.
Here she is with Kurt Andersen talking about creativity:
Related Articles