Renho Murata (Politician, Journalist)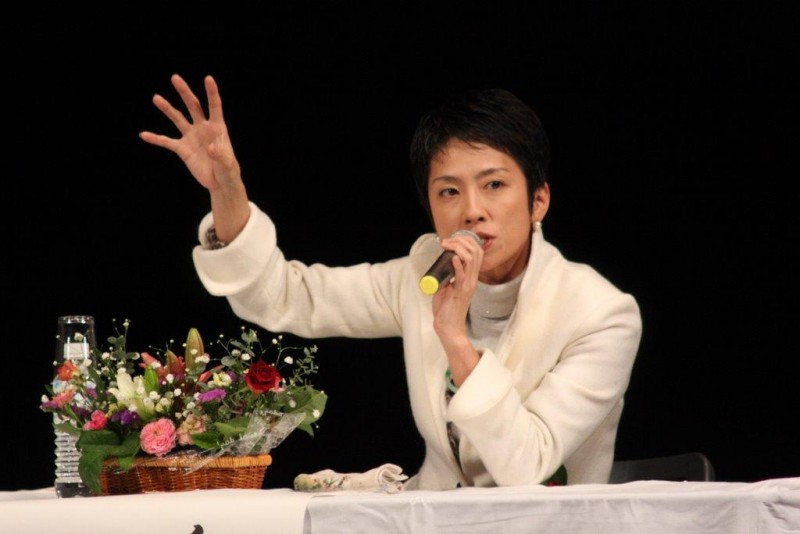 Renhō Murata (28 November 1967), commonly known mononymously as Renhō, is a Taiwanese Japanese journalist and politician who on September 14th, 2016 became the first female leader elected to Japan's main opposition Democratic Party. She was a member of the Cabinet of Japan from 2010 to 2012, serving as Minister for Government Revitalization and Minister of State for Consumer Affairs and Food Safety.
Born Hsieh Lien-fang in Tokyo to a Taiwanese father and Japanese mother, she studied at Aoyama Gakuin in Tokyo from kindergarten through university. She enrolled in the law faculty of Aoyama Gakuin University and graduated in 1990 with the B.L. degree in Public Law. Born as a citizen of the Republic of China (Taiwan), she did not become a citizen of Japan until 1985 when the Nationality Law was amended to allow Japanese mothers to pass Japanese nationality to their children. She adopted her mother's surname, Saitō, when she acquired Japanese citizenship. To avoid name confusion in her career, she began to go simply by Renhō.
In July 2004, Renhō was elected to the House of Councillors representing Tokyo as a member of the Democratic Party of Japan. Since election, she has been heavily involved in parenting issues and policies. Renhō has criticized Japan's diplomacy with China and its refusal to recognize Taiwan, stating that "Japan is too polite when dealing with China, taking a low profile" and "Taiwan is my father's country. Why isn't Taiwan a country?"
In September 2011, she was re-appointed as State Minister of Government Revitalization (responsible for administrative reforms) in the cabinet of then prime minister Yoshihiko Noda. Her new portfolio also included responsibility for civil service reform, gender equality and Japan's declining birthrate.
She retained her seat in the 2016 House of Councillors Election.
Related Articles