Meryl Streep (Actor/Academy Award Winner)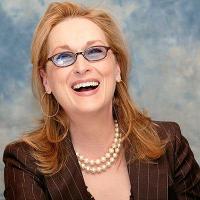 Mary Louise "Meryl" Streep (born June 22, 1949) is an American actress who has worked in theatre, television and film.
She is widely regarded as one of the most talented and respected actresses of the modern era. Her mastey of accents (see video clip below) is, in my opinion, unmatched by any actor, female or male. She is simply gorgeous in every sense.
Streep made her professional stage debut in 1971's The Playboy of Seville, before her screen debut in the television movie The Deadliest Season in 1977. In that same year, she made her film debut with Julia.
Both critical and commercial success came quickly with roles in The Deer Hunter (1978) and Kramer vs. Kramer (1979), the former giving Streep her first Oscar nomination and the latter her first win.
She later won an Academy Award for Best Actress for her performance in Sophie's Choice (1982). Streep has received 16 Academy Award nominations, winning two, and 25 Golden Globe nominations, winning seven, more nominations than any other actor in the history of either award.
This clip shows the astounding range of her ability to "do" accents:
Her work has also earned her two Emmy Awards, two Screen Actors Guild Awards, a Cannes Film Festival award, four New York Film Critics Circle Awards, five Grammy Award nominations, a BAFTA award, an Australian Film Institute Award and a Tony Award nomination, amongst others. She was awarded the American Film Institute's Lifetime Achievement Award in 2004.
Streep was born Mary Louise Streep in Summit, New Jersey, the daughter of Mary Wolf (née Wilkinson), a commercial artist and former art editor, and Harry William Streep, Jr., a pharmaceutical executive.
She has two brothers, Dana and Harry. Her paternal ancestry originates in Loffenau, Germany, from where her second great-grandfather, Gottfried Streeb, emigrated to the United States, and where one of her ancestors served as mayor. Another line of the Streep family was from Giswil, a small town in Switzerland. Her maternal ancestry originates in Pennsylvania and Rhode Island.
Her eighth great-grandfather, Lawrence Wilkinson, was one of the first Europeans to settle Rhode Island. Streep is also a distant relative of William Penn, the founder of Pennsylvania, and records show her family were among the first purchasers of land in Pennsylvania.
She was raised a Presbyterian, and grew up in Bernardsville, New Jersey, where she attended Bernards High School. She received her B.A., in Drama at Vassar College in 1971 (where she briefly received instruction from actress Jean Arthur), but also enrolled as an exchange student at Dartmouth College for a semester before it became coeducational. She subsequently earned an M.F.A. from Yale School of Drama.
While at Yale, she played a variety of roles onstage, from the glamorous Helena in A Midsummer Night's Dream to an eighty-year old woman in a wheelchair in a comedy written by then-unknown playwrights Christopher Durang and Albert Innaurato. "It was immediately apparent," said then-dean Robert Brustein, "that she was destined for greatness."
After prominent supporting roles in two of the 1970s most successful films, the consecutive winners of the Academy Award for Best Picture, The Deer Hunter and Kramer vs. Kramer, and praise for her versatility in several supporting roles, Streep progressed to leading roles. Her first was The French Lieutenant's Woman (1981).
Here she is on an early Ellen show also doing accents (so cute!)
A story within a story drama, the film paired Streep with Jeremy Irons as contemporary actors, telling their modern story as well as the Victorian era drama they were performing. A New York Magazine article commented that while many female stars of the past had cultivated a singular identity in their films, Streep was a "chameleon", willing to play any type of role. Streep was awarded a BAFTA Award for Best Actress in a Leading Role for her work.
Her next film, the psychological thriller, Still of the Night (1982) reunited her with Robert Benton, the director of Kramer vs. Kramer, and co-starred Roy Scheider and Jessica Tandy. Vincent Canby, writing for the New York Times noted that the film was an homage to the works of Alfred Hitchcock, but that one of its main weaknesses was a lack of chemistry between Streep and Scheider, concluding that Streep "is stunning, but she's not on screen anywhere near long enough".
As the Polish holocaust survivor in Sophie's Choice (1982), Streep's emotional dramatic performance and her apparent mastery of a Polish accent drew praise. William Styron wrote the novel with Ursula Andress in mind for the part of Sophie, but Streep was very determined to get the role. After she obtained a pirated copy of the script, she went to Alan J. Pakula and threw herself on the ground begging him to give her the part. Streep filmed the "choice" scene in one take and refused to do it again, as she found shooting the scene extremely painful and emotionally exhausting.
Among several notable acting awards, Streep won the Academy Award for Best Actress for her performance. Roger Ebert said of her performance, "Streep plays the Brooklyn scenes with an enchanting Polish-American accent (she has the first accent I've ever wanted to hug), and she plays the flashbacks in subtitled German and Polish. There is hardly an emotion that Streep doesn't touch in this movie, and yet we're never aware of her straining. This is one of the most astonishing and yet one of the most unaffected and natural performances I can imagine."
She followed this success with a biographical film, Silkwood (1983), in which she played her first real-life character, the union activist Karen Silkwood. She discussed her preparation for the role in an interview with Roger Ebert and said that she had met with people close to Silkwood to learn more about her, and in doing so realized that each person saw a different aspect of Silkwood. Streep concentrated on the events of Silkwood's life and concluded, "I didn't try to turn myself into Karen. I just tried to look at what she did. I put together every piece of information I could find about her... What I finally did was look at the events in her life, and try to understand her from the inside."
Her next films were a romantic drama, Falling in Love (1984) opposite Robert De Niro, and a British drama, Plenty (1985). Roger Ebert said of Streep's performance in Plenty that she conveyed "great subtlety; it is hard to play an unbalanced, neurotic, self-destructive woman, and do it with such gentleness and charm... Streep creates a whole character around a woman who could have simply been a catalogue of symptoms."
Out of Africa (1985) starred Streep as the Danish writer Karen Blixen and co-starred Robert Redford. A significant critical success, the film received a 63% "fresh" rating from Rotten Tomatoes. Streep co-starred with Jack Nicholson in her next two films, the dramas Heartburn (1986) and Ironweed (1987), in which she sang onscreen for the first time since the television movie, Secret Service, in 1977.
In A Cry in the Dark (1988), she played the biographical role of Lindy Chamberlain, an Australian woman who had been convicted of the murder of her infant daughter in which Chamberlain claimed her baby had been taken by a dingo. Filmed in Australia, Streep won the Australian Film Institute Award for Best Actress in a Leading Role, a Best Actress at the Cannes Film Festival, the New York Film Critics Circle Award for Best Actress and was nominated for several other awards for her portrayal of Chamberlain.
In She-Devil (1989), Streep played her first comedic film role, opposite Roseanne Barr. Richard Corliss, writing for Time, commented that Streep was the "one reason" to see the film and observed that it marked a departure from the type of role for which she had been known, saying, "Surprise! Inside the Greer Garson roles Streep usually plays, a vixenish Carole Lombard is screaming to be cut loose."
From 1984 to 1990, Streep won six People's Choice Awards for Favorite Motion Picture Actress and, in 1990, was named World Favorite.
In the 1990s, Streep continued to choose a great variety of roles, including a drug addicted movie actress in a screen adaptation of Carrie Fisher's novel Postcards from the Edge, with Dennis Quaid and Shirley MacLaine. Streep and Goldie Hawn had established a friendship and were interested in making a film together.
After considering various projects, they decided upon Thelma and Louise, until Streep's pregnancy coincided with the filming schedule, and the producers decided to proceed with Susan Sarandon and Geena Davis. They subsequently filmed the farcical black comedy, Death Becomes Her, with Bruce Willis as their co-star. Time's Richard Corliss wrote approvingly of Streep's "wicked-witch routine" but dismissed the film as "She-Devil with a make-over".
Biographer Karen Hollinger describes this period as a downturn in the popularity of Streep's films, which reached its nadir with the failure of Death Becomes Her, attributing this partly to a critical perception that her comedies had been an attempt to convey a lighter image following several serious but commercially unsuccessful dramas, and more significantly to the lack of options available to an actress in her forties.
Streep commented that she had limited her options by her preference to work in Los Angeles, close to her family, a situation that she had anticipated in a 1981 interview when she commented, "By the time an actress hits her mid-forties, no one's interested in her anymore. And if you want to fit a couple of babies into that schedule as well, you've got to pick your parts with great care."
Streep appeared with Glenn Close in the movie version of Isabel Allende's The House of the Spirits, the screen adaptation of The Bridges of Madison County with Clint Eastwood, The River Wild, Marvin's Room (with Diane Keaton and Leonardo DiCaprio), One True Thing, and Music of the Heart, in a role that required her to learn to play the violin, She was nominated for the Academy Award for Best Actress in a Leading Role for "The Bridges of Madison County", "Music of the Heart" (where she plays the role of Roberta Guaspari) and "One True Thing".
In 2001, Streep voiced the Blue Fairy in Steven Spielberg's A.I. Artificial Intelligence, a science fiction film about a child-like android, played by Haley Joel Osment, uniquely programmed with the ability to love. A critical and commercial success, the film collected US$235.9 million at international box offices.The same year, Streep co-hosted the annual Nobel Peace Prize concert with Liam Neeson in Oslo, Norway.
In 2002, Streep co-starred with Nicolas Cage in Spike Jonze's comedy-drama Adaptation, portraying real-life journalist Susan Orlean. Streep expressed dire interest in the role before being cast, and took a salary cut in recognition of the film's budget. Lauded by critics and viewers alike, the film was nominated for an Academy Award for Best Writing, and won Streep, who David Ansen of Newsweek felt had not "been this much fun to watch in years," her fourth Golden Globe in the Best Supporting Actress category.
Also in 2002, Streep appeared alongside Nicole Kidman and Julianne Moore in The Hours, directed by Stephen Daldry. Based on the 1999 novel of the same title by Michael Cunningham, the film focuses on three women of different generations whose lives are interconnected by the novel Mrs. Dalloway by Virginia Woolf. Generally well-received, The Hours was praised for the performances of all three leading actresses, who shared a Silver Bear for Best Actress the following year. Peter Travers of Rolling Stone commented, "These three unimprovable actresses make The Hours a thing of beauty Streep is a miracle worker, building a character in the space between words and worlds."
The following year, Streep had a cameo as herself in the Farrelly brothers comedy Stuck on You (2003) and reunited with Mike Nichols to star with Al Pacino and Emma Thompson in the HBO adaptation of Tony Kushner's six-hour play Angels in America, the story of two couples whose relationships dissolve amidst the backdrop of Reagan Era politics, the spreading AIDS epidemic and a rapidly changing social and political climate. Streep, who was cast in four different roles in the mini-series, received her second Emmy Award and fifth Golden Globe for her performance.
In 2004, Streep was awarded the AFI Life Achievement Award by the Board of Directors of the American Film Institute, which honors an individual for a lifetime contribution to enriching American culture through motion pictures and television. The same year, she appeared in Jonathan Demme's remake of The Manchurian Candidate, co-starring Denzel Washington, in which she accepted a role originated by Angela Lansbury, playing a U.S. senator and a manipulative, ruthless mother of a vice-presidential candidate. On her performance, Mick LaSalle of the San Francisco Chronicle commented that "no one can talk about the acting in The Manchurian Candidate without rhapsodizing about Streep. She's a pleasure to watch — and to marvel at — every second she's onscreen."
The thriller became moderate box office success, grossing US$96 million worldwide on a budget of US$80 million. Also in 2004, Streep played the supporting role of Aunt Josephine in Lemony Snicket's A Series of Unfortunate Events alongside Jim Carrey, based on the first three novels in Snicket's book series. The black comedy received generally favorable reviews from critics, grossed approximately $209 million worldwide, and won the Academy Award for Best Makeup.
Streep's was next cast in the 2005 comedy Prime, directed by Ben Younger. In the film, she played Lisa Metzger, the Jewish psychoanalyst of a divored and lonesome business-woman, played by Uma Thurman, who enters a relationship with Metzger's 23-years-old son (Bryan Greenberg). A modest mainstream success, it eventually grossed US$67.9 million internationally.
Streep began 2006 with A Prairie Home Companion, director Robert Altman's final film. A comedic ensemble piece featuring Tommy Lee Jones, Kevin Kline and Woody Harrelson, the film revolves around the behind-the-scenes activities at the long-running public radio show of the same name. Streep, along with Lily Tomlin, portrayed the last two members of what was once a popular family country music act. After releasing in several film festivals, the film grossed over US$26 million, the majority of which came from domestic markets.
Streep fared better with a role in The Devil Wears Prada (2006), a loose screen adaptation of Lauren Weisberger's 2003 novel of the same name. Co-starring Anne Hathaway as a recent college graduate who goes to New York City and gets a job as a co-assistant, Streep played the powerful and demanding fashion magazine editor Miranda Priestly. Inspired by Vogue editor Anna Wintour, Streep's performance drew rave reviews from critics and later earned her many award nominations, including her record-setting 14th Oscar bid, as well as another Golden Globe. In his review for the New York Daily News Jack Mathews noted, "Wintour should be flattered by Streep's portrayal." Upon its commercial release, the film became Streep's biggest commercial success yet, grossing more than US$326.5 million worldwide.
In 2008, she appeared as Donna in the film version of the ABBA musical Mamma Mia!, For this role she won the award of Best Female Performance at the National Movie Awards (UK), and received a Golden Globe nomination for Best Actress in a Comedy/Musical. She played Sister Aloysius in the 2008 film adaptation of John Patrick Shanley's Doubt. She received both an Academy Award nomination for Best Actress and a Golden Globe nomination for Best Actress in a Drama for that film. She also shared the Broadcast Film Critics Association Award for Best Actress with Anne Hathaway for the role, and won a Screen Actors Guild Award for Outstanding Performance by a Female Actor in a Leading Role.
In 2009, she starred in Julie & Julia, in which she played the late Julia Child. For this role she won the Golden Globe Award for Best Actress – Motion Picture Musical or Comedy and also shared the Broadcast Film Critics Association Award for Best Actress with Sandra Bullock. Streep also received a nomination for the Academy Award for Best Actress for this performance. She then starred in Nancy Meyers' romantic comedy It's Complicated, with Alec Baldwin and Steve Martin. She also received nomination for the Golden Globe Award for Best Actress – Motion Picture Musical or Comedy for this film. Streep also lent her voice to Mrs. Felicity Fox in the stop-motion film Fantastic Mr. Fox.
Related Articles