Dorothy Draper (Pioneer Interior Designer)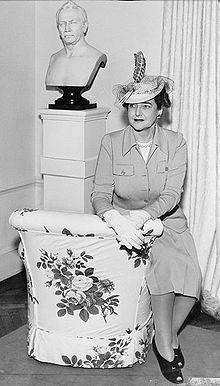 Dorothy Draper (born Dorothy Tuckerman November 22, 1889, died March 11, 1969) was an influential and innovative American interior decorator of the early to mid 20th century.
She helped inspire a generation of home improvement devotees with her 1939 book Decorating is Fun!, subtitled "How to Be Your Own Decorator".
Her book Entertaining is Fun! How to Be a Popular Hostess, was reissued in 2004.
She was born into the aristocratic Tuckerman family in the Tuxedo Park section of New York State. Her great-grandfather, Oliver Wolcott, was a signer of the Declaration of Independence. Dorothy stated later that she had "no schooling to speak of, except that I was brought up where I had the privilege of being constantly in touch with surroundings of pleasant good taste."
Extensive travel in Europe added to her observations; after she married Dr. George Draper in 1912 and continued to live in glamor, she redecorated her homes in such style that other high society friends were asking her to do the same for their homes.
Her husband, Dr. George Draper, was the personal doctor to U.S. President Franklin D. Roosevelt after he was diagnosed with polio. Eleanor Roosevelt and Dorothy were good friends growing up, so the relationship between the two families was already in existence. Soon, she was being hired by architects; Douglas Elliman then hired her to re-do New York's Hotel Carlyle. Over the years, she did makeovers for New York's Hampshire House, World's Fair Terrace Club, and Maison Coty; Chicago's Drake Hotel's Camelia House, Washington's Mayflower Hotel; and Hollywood's Arrowhead Springs Hotel; West Virginia's Greenbrier.
Also, she designed the interiors of the famous Palácio Quintandinha in Petrópolis, Rio de Janeiro, Brazil in 1944. Among decorators, it was said that these locations had been "Draperized".

She was one of the few early women to really delve into the male dominated construction industry. Her style was big, brash, bodacious, bold, and bordered on what some would consider gaudy, shocking both men and women of her day. She was a predecessor of Morris Lapidus, the architect that would redesign, stylistically as well as almost literally, all of Miami Beach. The two had similar styles and approaches, yet his was firmly modernistic, while she still used traditional elements and principles in her work, albeit grandiosely.

Her style can still be seen influencing the looks of more current interior decorators. Robert Denning and Vincent Fourcade used her sense of scale with even more polish and excess. Certain elements of her neo-baroque elements are used by Philippe Starck.

In May 2006, the Museum of the City of New York held an exhibition of Draper's work, curated by Donald Albrecht and designed by the Manhattan studio Pure+Applied. Draper-designed furniture was lent by The Greenbrier Hotel and The Arrowhead Springs resort—two of her best-known projects. A 9-foot-tall (2.7 m) white "bird-cage" chandelier that Draper designed for the Metropolitan Museum of Art's Dorotheum cafe was also on display. See images of the exhibit here.

From December 2006 through July 2007, the Women's Museum in Dallas, Texas hosted "In the Pink: The Legendary Life of Dorothy Draper. It featured archival photographs of Draper's work from The Stoneleigh Hotel and the St. Anthony. The exhibition was designed by Pure+Applied of New York. Photos at this link. The exhibition then moved to the Museum of Art | Fort Lauderdale from February through June, 2008.

She is also the cousin of another influential interior designer, Sister Parish.

In the early fifties she designed special automotive interiors for Kaiser-Frazer Corporation and Packard Motor Car Company.
Related Articles