Marianne Williamson (Spiritual Activist)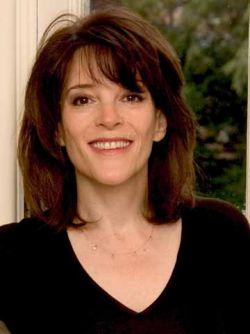 Marianne Williamson (born July 8, 1952) is a spiritual activist, author, lecturer and founder of The Peace Alliance, a grass roots campaign supporting legislation currently before Congress to establish a United States Department of Peace.
She is also the founder of Project Angel Food, a meals-on-wheels program that serves homebound people with AIDS in the Los Angeles area.
Williamson has published nine books, including four New York Times #1 bestsellers. Her book, The Age of Miracles: Embracing the New Midlife, was published in January 2008 and spent five weeks on the New York Times Best Seller list. As of the late 2000s, she appears on a weekly radio show on the Oprah & Friends channel of XM Satellite Radio.
Williamson attended (but did not graduate from) Pomona College in Claremont, California, where her roommate was film producer Lynda Obst. She is a minister in the Unity Church.
Williamson's philosophy adopts a New Thought approach to spirituality. She incorporates both established Christianity and Judaism with statements such as "You've committed no sins, just mistakes." She also promotes tenets of Zen Buddhism such as the belief that one must empty their mind through enlightenment to truly find God.
She gained early attention discussing A Course in Miracles with Oprah Winfrey. She credits her claimed insight to Oprah Winfrey, who invited Williamson to The Oprah Winfrey Show to discuss her first book A Return to Love.
A passage from Williamson's book, A Return to Love, has become popular as an inspirational quote and has been used, amongst other places, in the 2005 film, Coach Carter and the 2006 film, Akeelah and the Bee. It is often incorrectly attributed to Nelson Mandela; Williamson herself is quoted as saying, "As honored as I would be had President Mandela quoted my words, indeed he did not.
I have no idea where that story came from, but I am gratified that the paragraph has come to mean so much to so many people." She has also been featured in some films, including The Power of Forgiveness showcased at the Dawn Breakers International Film Festival in 2009.
Related Articles