Jean Batten (Aviator/Pilot)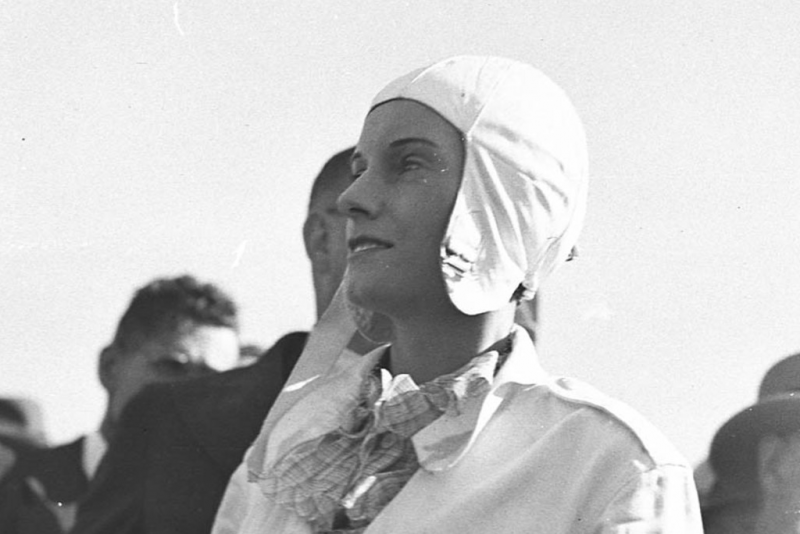 Jean Gardner Batten (15 September 1909 – 22 November 1982) was New Zealand's greatest aviator. Born in Rotorua, she became the best-known New Zealander of the 1930s, internationally, by making a number of record-breaking solo flights across the world. She made the first-ever solo flight from England to New Zealand in 1936.
"Every flyer who ventures across oceans to distant lands is a potential explorer; in his or her breast burns the same fire that urged adventurers of old to set forth in their sailing-ships for foreign lands."
Major Flights
1934 – England – Australia (women's record) 16,900 kilometres (10,500 mi) in 14 days 22 hours 30 minutes, breaking Amy Johnson's record by over four days.[2]
1935 – Australia – England in 17 days 15 hours. First woman ever to make a return flight.
1935 – England – Brazil: 8,000 km (5,000 mi) in 61 hours 15 minutes, setting world record for any type of aeroplane. Also fastest crossing South Atlantic Ocean, 13 1⁄4 hours, and first woman to make England – South America flight.
1936 – England – New Zealand. World record for any type. 22,891 km (14,224 mi) in 11 days 45 minutes total elapsed time, including 2 1⁄2 days in Sydney.
Major Awards
Commander of the Order of the British Empire (Great Britain)
Officer of the Order of the Southern Cross (Brazil)
Chevalier de la Légion d'Honneur (France)
King George VI Coronation Medal
Legacy
Houses in Macleans College, Howick Intermediate, Pukekohe Intermediate School, Westlake Girls High School, Southland Girls' High School, Forrest Hill School, Tauranga Girls' College and Wellington Girls' College are named after her, as is Batten (Blue) House at Orewa College and in the whanau system of Aorere College in South Auckland. A primary school in Mangere is named after her as are streets in Auckland, Christchurch, Mount Maunganui, Wellington, Wallington and in her birthplace of Rotorua. The historic Jean Batten building on the corner of Fort and Shortland streets in Auckland has been incorporated into the new Bank of New Zealand head office building, and the Auckland Airport International Terminal is named after her. The Percival Gull G-ADPR in which she made the first solo trip from England to New Zealand in 1936 and many other record-breaking trips now hangs in the Jean Batten International Terminal.
A bronze sculpture of Batten is located in the main terminal of Rotorua Regional Airport and memorial panels are installed in the building. A small park in the middle of Rotorua city is named after her.
In September 2009, a Qantas Boeing 737 ZK-ZQA, the first International configuration plane of its type and Qantas's 75th 737 was named after Batten.
Also in September 2009, a street in the area of Palma where Batten died was renamed Carrer de Jean Batten, or Jean Batten St.
During the 1980s Britannia operated 737–200 G-BGYL, named Jean Batten. It later crashed in Panama after being sold to COPA.
In 2016, Google Doodle commemorated her 107th birthday.
Related Articles