Australian Aviator Flew Far and Wide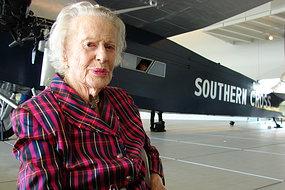 Nancy Bird-Walton was born in the New South Wales north coast town of Kew in 1915.
Walton became the first female pilot to get her commercial pilot's licence at the age of 19.
She wanted to fly from the age of four and she was taught to take the controls when she was just 17 by Charles Kingsford Smith.
She went on to pioneer an air ambulance service for outback New South Wales and was commandant of the Women's Air Training Corps during World War II.
Walton also founded the Australian Women Pilots' Association and went on to be president for about 40 years.
On her 90th birthday, Qantas announced it would name an aircraft for Walton. In her remarks at the A380 naming ceremony she said: "Qantas announced that they would name this magnificent aircraft after me on my 90th birthday nearly three years ago. And i made it my business to stay alive until today's ceremony. And I've made it! I've made it."
See also:
The Australian Business with The Wall Street Journal
Video of Qantas A380 Naming Ceremony in October 2008

Related Articles