Huwaida Arraf (American-Palestinian Activist)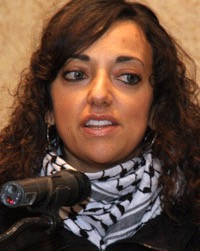 Huwaida Arraf (born 1976) is a Palestinian Christian human rights activist, lawyer and co-founder of the International Solidarity Movement (ISM).
The ISM is a Palestinian-led organization focused on assisting the Palestinian side of the Israeli-Palestinian conflict using non-violent protests.
Arraf's law practice is based in Ramallah.
In this short piece, she describes a video news report that documents the kind of activism that to her is the norm:
Arraf, who is Christian, is the daughter of a Palestinian mother and father. Her father has Israeli citizenship. Her parents moved from the West Bank to Detroit, Michigan, Arraf's birthplace, be able to raise her away from the violence in the West Bank.
She and her parents were able to visit Israel every few years until Arraf was ten years old. In the video below, she says how living in Palestine was a homecomeing for her.
Arraf majored in Arabic and Judaic studies and political science at the University of Michigan, Ann Arbor. She spent a year at the Hebrew University in Jerusalem and studied Hebrew on a kibbutz. She later earned a J.D. at American University's Washington College of Law. Her focus was on International Human Rights and Humanitarian Law, with a particular interest in war crimes prosecution.
In the spring of 2000, Arraf traveled to Jerusalem to serve as program coordinator for Seeds of Peace, a U.S.-based nonprofit organization that seeks to foster dialogue between Jewish and Palestinian youth.
In 2001, her title at the Center for Coexistence in Jerusalem was Regional Coordinator. Arraf married Adam Shapiro, another ISM co-founder, in 2002. They met while both were working at the Jerusalem center of Seeds of Peace.
Arraf chairs the Free Gaza Movement, the organization behind the Gaza Freedom Flotillas - a series of groups of ships carrying Pro-Palestinian activists that were organized to break Israel's naval blockade of the Gaza Strip. She was aboard the 2008 Free Gaza boats as well as the 2010 flotilla that was raided by Israeli commandos on May 31.
At the time of the raid, Arraf was aboard the Challenger 1, one of the smallest ships (30 feet) of the flotilla. On Thursday, 3 June 2010, she provided her version of the events on Challenger 1 in an interview on Democracy Now.
On April 16, 2011, at TEDxRamallah, she eulogised her friend and fellow activist Vittorio Arrigoni, an Italian national who was kidnapped and executed in Gaza, in this emotional and powerful talk:
Related Articles