Huda Sosebee (Wife/Mom/Force for Good)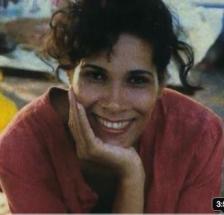 Huda Sosebee (nee Al-Masri), passed peacefully over to God"s loving embrace on July 15, 2009 in her home in Kent, Ohio with her beloved family, following a seven-month battle with Leukemia.

Huda was the head social worker for the Palestine Children's Relief Fund (PCRF).
She touched the lives of thousands of sick and injured children throughout the Middle East.
Huda earned her degree in social work from Al-Quds University in East Jerusalem and a master's degree in Public Health from Kent State University. In 1993, Huda began working as the head social worker for the PCRF.
Huda's great human spirit touched the lives of dozens of injured children throughout the years, as she personally cared for them in her home in Kent while they received treatment in northeast Ohio. Nearly 1000 more children with different medical needs were touched by Huda's loving hand, as she helped organize and place them for free medical care in the USA, Europe and the Middle East.

Throughout the years, Huda's hard work and loving care resulted in the treatment of thousands of needy children throughout Palestine, Lebanon, Syria, and Iraq. Even during her struggle with cancer, she continued to work and arrange for injured children to get host families, medical treatment and the loving care that they otherwise would not get in their homeland.
Her departure is a deep loss for the poor and needy children of the Holy Land, as well as thousands of loving family and friends all over the world.

Huda was born on December 18, 1962 in Ramallah, Palestine to Ibrahim Abdullah Al-Masri and Zahraa Flaifl and is survived by her brothers, Abdullah, Ahmed, Mohammed, Mahmoud and Nasser, and sisters, Hanan, Hiam and Waila. She is also survived by stepbrothers and sisters, Jihan, Hana, Hala, Hisham and Nahlah.
Huda returned home to her mother, Zahraa, who passed away when she was 13 years old. Huda left two beautiful daughters, Deema, 12, and Jenna, 2, and a loving husband, Steve Sosebee, 43, who she married in Ramallah on January 15, 1993.
Her family and friends were the center and love of her life and provided her great joy and happiness, particularly in seeing the growth of her two special daughters over the past 12 years.

Huda was a loving mother and wife, a proud Arab woman and a courageous Palestinian who believed in the cause of peace and justice for her people and worked hard to heal the wounds of war and occupation for children all over the Middle East.
Her departure is a terrible loss for all peace-loving people and especially for the children of Palestine, Lebanon and Iraq, who continue to suffer the lack of adequate health care in their countries. She was loved by thousands and will be missed by many more.
Related Articles