Halima Mohamed Abdel Rahman Tells The Story Of Her Brutal Circumcision As A Young Girl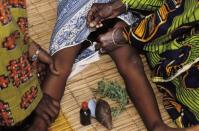 Susan notes: World Pulse, a website dedicated to highlighting global issues through women's eyes, is running a series of stories by women citizen journalists; this is one of them.
I was moved to tears when I read Halima Mohamed Abdel Rahman's personal account of female genital mutiliation.
I can't imagine the agony of this procedure. And the fact that older women continue to butcher young girls in the name of religion and tradition deeply saddens me.
Let's hope this inhumane practice is soon erradictated, although the full article doesn't offer much promise...
I remember being forced to lie down on three old mattresses: two stretched on an angareb (a wooden bed popular in Sudan); the other plied under my torso. My midwife Hajja sat on a low wooden stool. Our eyes met as she faced my naked body.
"Now you are a woman," she said. "A real woman never cries. I will remove this dirt, and you will become clean, a real Muslim."
There were several women around me during the ritual. Two took hold of my thighs, while two others firmly held my arms. Another sat behind me and put my head on her lap. With her right hand she covered my eyes. As she put her left arm on my chest, she must have felt my heart beating fast because she said, "Honor your father's name. Don't be afraid; this is not painful. You have seen your sister and your cousins. They did not cry." I didn't dare utter a sound as tears ran down my face.
"In the name of Allah Most Gracious, Most Merciful," Hajja said. She raised her fat hand, ornamented with golden bracelets, and addressed the women around her. "Open her widely," she murmured.
I felt the fingers of her left hand moving my nudity apart and then a sharp needle piercing my flesh up and down and in the middle. I cried at the top of my voice and tried to raise my torso to kick the two women who were firmly holding my thighs.
"Oh women, hold her firmly!" Hajja cried.
I was anesthetic resistant.
Suddenly, she started cutting. The pain was excruciating. I cried like a mad person. Her head was bent between my thighs, but I felt as if she was cutting in the middle of my skull. More women were called to hold me down. Some of them nicknamed me coward.
Hajja called one of the old ladies over and asked, "Does everything look okay?"
"No, no," said the old woman, "Cut this piece. Yes, this one. And remove her clitoris. What is the use of it? And, remove the dirt. Do as I tell you." It was Grandmother Amna, doing her best to establish herself as the expert in the anatomy of young girls.
Again Hajja bent between my thighs and cut me with the razor. Or perhaps it was a kitchen knife. I was sure of one thing only: She wasn't wearing gloves or covering her head. She wore only her white short dress. She was fat and stout and mowed my flesh with no mercy.
And then came the stitches: nine in all, causing me pain and panic whenever I tried to move.
I was only 6 years old—too tiny to struggle...
Photo © Peter Arnold
Related Articles