Brutal FGM Still Practiced Around The World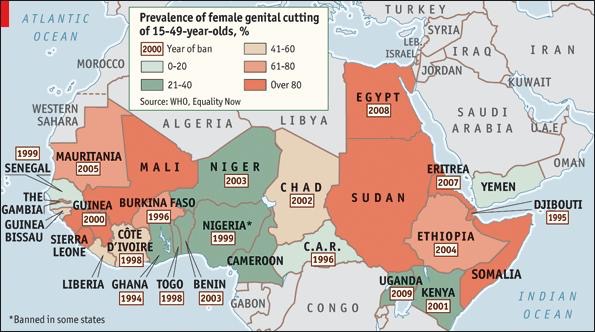 FOR a group dedicated to the health and well-being of children to advocate the cutting of girls' genitals seems inconceivable.
But the American Academy of Paediatrics (AAP), in a review of its policy on the practice known as female circumcision, did tentatively ask if, in order to avoid the most dangerous behaviour, doctors should be allowed to perform some kind of "ritual cut" in the clitoral skin. The academy likened it to ear-piercing and said that it might satisfy the cultural requirements of people wedded to the practice.
After a chorus of condemnation the AAP swiftly released a new statement, anxiously stressing that it does not endorse "clitoral nicks". Judith Palfrey, the group's president, says there is absolutely no case for it and that doctors must oppose all forms of genital cutting on girls. The academy's British and Australian counterparts, and the UN, have voiced a similar position.
Cutting girls' genitals is still common in 28 mostly African countries and among their migrants abroad. The World Health Organisation (WHO) estimates that 100m-140m women have been subject to the practice and thinks that some 3m girls are at risk each year of one of four forms of cutting, ranging from the symbolic to life-ruining. In countries such as Somalia, Egypt and Guinea, over 95% of women have undergone some version of it.
Some see it as a matter of hygiene, others as a rite of passage into womanhood. Its Muslim, Christian and animist defenders all cite religious grounds. Where the practice is a prerequisite for marriage, economic factors play a role too.
Attempts to stamp out the practice have gathered pace since the 1980s. Now 18 African countries have banned it, although laws are patchily observed. Nawal El Saadawi, an Egyptian who suffered mutilation and has campaigned against it for more than 50 years, says that education is needed, not just prohibition.
A mixed approach probably works best. Burkina Faso has a hotline to the police for girls who feel they are in danger. Tasaru Ntomonok Initiative, a group in the Narok district in Kenya, has a safe house for girls fleeing their families. Maendeleo ya Wanawake Organisation, a Kenyan women's NGO, offers "circumcision through words", an alternative rite of passage without the bloodshed.
Click here for the full story:
The Economist
Related Links:
More About FGM on AWR