Dorothy Hamill (Figure Skater/Olympic Champion)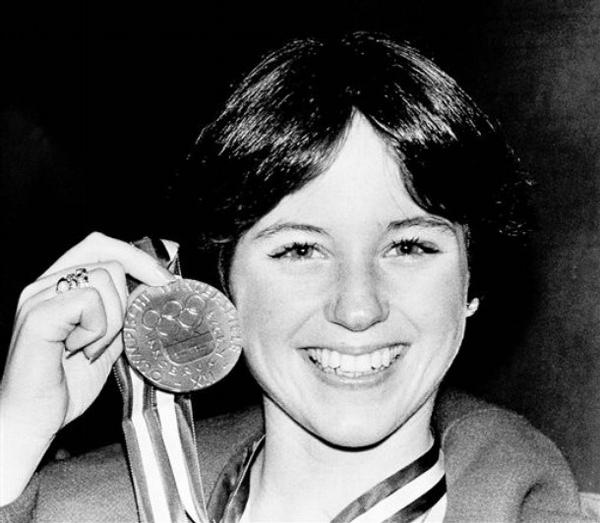 Dorothy Stuart Hamill (born July 26, 1956) is an American figure skater. She a 1976 Olympic Winter Games gold medalist and Ladies World Figure Skating Champion.
Hamill was born in Chicago, Illinois to Chalmers and Carol Hamill.
Shortly after her birth, her family moved to the Riverside neighborhood of Greenwich, Connecticut, where Hamill subsequently spent the rest of her childhood. She has a brother and a sister.
Hamill first started skating in early 1965 at the age of 8, taking once-a-week group lessons in a pair of $6.95 skates. She became more serious about the sport the next season, taking regular private lessons and passing her preliminary and first figure test before the seasonal rink closed in March.
Ice time was limited in her area, so she eventually began training at Sky Rink in New York City, staying overnight in the city with friends when possible. In the summers she trained in Lake Placid, New York and later in Toronto with her coach of the time, Sonya Dunfield.
Until the spring of 1970, Hamill attended public schools in Riverside, but at that point she switched to a small school with flexible tutoring to accommodate her skating schedule.
Hamill's first national success came in 1969, when she won the novice ladies' title at the U.S. Championships at the age of 12. Later that spring, Hamill was invited to perform in Madison Square Garden with the exhibition tour (in later years known as Champions on Ice) that followed the 1969 World Figure Skating Championships. She placed second at the junior level at the 1970 Championships, and made her senior debut in 1971.
Hamill was U.S. champion from 1974 through 1976. At the 1974 World Championships in Munich, Germany, she was in 3rd place after the compulsory figures and the short program. She was set to skate directly after the German skater whose marks were mercilessly booed while Hamill was already on the ice. Visibly upset, she left the ice and burst into tears. After the crowd settled down, she returned to the ice and skated a perfect and inspiring program; almost winning the gold medal, capturing silver behind Christine Errath of East Germany.
Hamill won silver again at the World Championships in 1975 at Colorado Springs, Colorado behind Dianne de Leeuw of the Netherlands and ahead of Errath. In 1976, Hamill switched boots to skate the compulsory figures better (she had been wearing special boots created by Carlo Fassi that did not seem to be helping her).
At the 1976 Olympics, Hamill came in second in the figures and then won the short and long programs, taking the gold medal. Before Dorothy Hamill took to the ice for her freestyle routine at the Winter Olympics in Innsbruck, Austria, she started crying after seeing a sign in the stands that said, "Which of the West? Dorothy!" At first, she thought detractors made the sign and took it as a message that she was a witch.
In the Cold War era, what the sign-makers were cleverly asking is which Western skater - Hamill or Diane de Leeuw of the Netherlands - was going to defeat East Germany's Christine Errath for the gold medal. Then they answered by saying Dorothy. Once Hamill realized the sign was held by her friends, who wanted to shake her out of her usual pre-competition jitters, the three-time U.S. champion felt better. A relaxed Hamill, skating to music from Errol Flynn movies, won the gold medal by a unanimous decision of the nine judges.
The crowd showered her with so many flowers that three girls helped her gather them on the ice. Lord Killanin, president of the International Olympic Committee, put the gold medal around her neck. Though she won't identify the alleged assailant, Hamill said that a competing skater and the skater's coach tried to run her down with a car during the 1976 Olympics. She also won the world championships that year and then turned professional.
She is credited with developing a new skating move; a camel spin that turns into a sit spin, which became known as the "Hamill camel." The bobbed hairstyle that she wore during her Olympic performance started a fad. A Dorothy Hamill doll was made in 1977. She quickly became "America's Sweetheart."
Hamill was an Ice Capades headliner from 1977–1984. She was asked to join Ice Capades by an aging Donna Atwood, who had been its star for years and who had eventually acquired financial control of the Ice Capades, to be Atwood's successor as its new star. After the Ice Capades eventually folded due to competition and changing national tastes in entertainment (notably favoring the professional sports of football and basketball), Hamill bought the financially strapped company's assets in 1993 in an effort to revive earlier successes, but wound up selling it to Pat Robertson's International Family Entertainment, Inc. in 1995.
In 1993, the Associated Press released results of a national sports study by Nye Lavalle's Sports Marketing Group. Hamill was statistically tied for first place with fellow Olympian, Mary Lou Retton as the most popular athlete in America ranking far ahead of other major sports stars such as Michael Jordan, Magic Johnson, Troy Aikman, Dan Marino, Wayne Gretzky, Joe Montana, Nolan Ryan and 800 other athletes.
Related Articles