Donna Karan (Fashion Designer/ DKNY)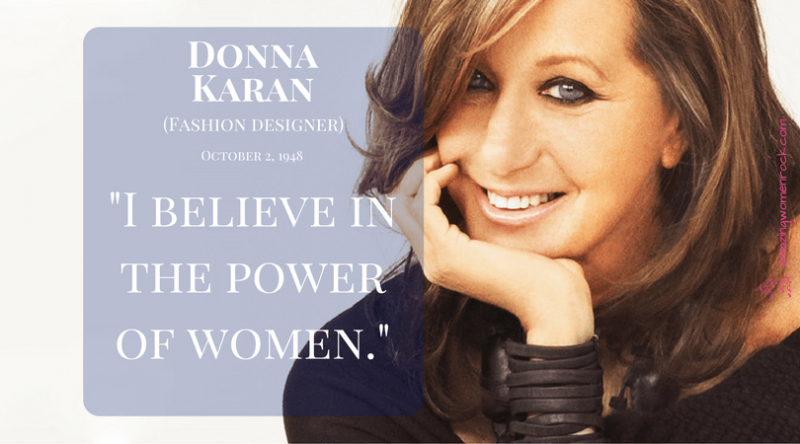 Donna Karan (born October 2, 1948) is an American Jewish fashion designer and the creator of the Donna Karan New York and DKNY clothing labels.
I never see one woman when I design, it's always a universe of women
Karan was born Donna Ivy Faske in Forest Hills, Queens, USA. She grew up in Woodmere, Long Island, New York, with her stepfather, a tailor, and her mother, a model.
Karan started selling clothing on Cedarhurst, New York's Central Avenue at age 14.
Here's her Fall/Winter 2015 collection:
She graduated from Hewlett High School in 1966 and then went to the Parsons School of Design (later known as Parsons the New School for Design after it became a division of The New School), for two years. She left to work for Anne Klein.
After leaving college, Karan worked for Anne Klein, eventually becoming head of the Anne Klein design-team, where she remained until 1985, when she launched her eponymous Donna Karan label.
Karan began her career as an assistant designer with Anne Klein in the late 1960s, where she was eventually promoted to associate designer in 1971. When Anne Klein herself died in 1974, Takihyo Corporation of Japan became the new owner and Karan, together with her former classmate and friend Louis Dell'Ollio, became head designer of the house.
In 1984, Karan left Anne Klein and, together with her then husband Stephan Weiss and Takihyo Corporation, started her own business "to design modern clothes for modern people". She showed her first women's clothing collection in 1985.
Karan became well-known for her 'Essentials' line, initially offering seven easy pieces which could all be mixed and matched, and created a fully integrated wardrobe. Karan always insisted that she would only design clothes, like jersey dresses and opaque Lycra tights, that she would also wear herself. She was once described in the early 1990s by the New York Times as "[Ed Koch] in a stretchy black dress".
In 1988 Karan, nicknamed The Queen Of Seventh Avenue by the time, extended her women's 'Donna Karan New York' line by a less expensive one for younger women, called DKNY. The line was such a hit that Karan can be regarded as the first designer to successfully establish a diffusion line. Two years later she created DKNY Jeans, a denim-inspired collection.
DKNY for men was launched in 1992, one year after the 'Signature' line for men had been presented. In its heyday in the 1990s, the Donna Karan portfolio, for men and women, consisted of the top-of-the-line DKNY collection (black label, couture collection, partly hand-made, limited distribution) and its variation, the 'Donna Karan Signature' collection (golden label, designer sportswear, wider distribution), the DKNY lifestyle diffusion line, and the lower-priced DKNY Jeans (and DKNY Active) lines.
The portfolio was later complemented by a children's collection, beauty products, accessories and furniture. Sales rose up to 510.1 million in 1995 from $96.6 in 1991. More than half of the sales were attributed to the DKNY lines, couture contributed 15% and about 30% of the sales were generated by men's clothing, accessories, cosmetics and other products. Almost a third of the sales were made in exports.
In 1997 Donna Karan quit as CEO of the company, but continues to act as chairwoman and designer in charge of the Donna Karan line. From 2002 on, most of the collection was designed by Peter Speliopoulos, a former Cerruti designer, with Karan contributing little subtleties or even entire new creations. The DKNY line is entirely designed by Jane Chung, who has been with Donna Karan since Karan's days with Anne Klein.
In November 2000, the LVMH (Moet Hennessy Louis Vuitton) fashion giant completed the acquisition of both Gabrielle Studio, a company that owned the Donna Karan brand and was named after Karan's daughter, and Donna Karan International Inc. for about $400 million and $240 million, respectively. LVMH subsequently re-arranged the Donna Karan portfolio: 'Donna Karan New York' for men was discontinued, as well as the 'Signature' lines for men and women.
In August 2008, Donna Karan relaunched her discontinued fragrance lines from the 1990s. These include DK Fuel for Men, Signature, Chaos, and Black Cashmere. They are available exclusively in the United States at Bergdorf Goodman, Manhattan and at Harrod's, Knightsbridge, London.
The first Donna Karan Signature store was opened in London in 1996 ar 27 New Bond Street.. The Launch party was widely regarded as one of the most lavish ever seen and was reported to have cost over £500m. The first DKNY flagship store opened in 1999 at Madison Avenue and 60th in New York. According to the company's web site there are Donna Karan stores in New York, Manhasset, Boston, Costa Mesa, London, Singapore, Tokyo, Fukuoka, Las Vegas and Dubai.
The Donna Karan store in Berlin was closed in December 2001. The DKNY label has its own stores, located predominantly in retail shopping malls. Apart from DKNY stores in New York, Costa Mesa, Short Hills, Boston, Las Vegas, Los Angeles, there are international outlets in London, Antwerp, Tokyo, India, Hong Kong, Dubai, Tel Aviv and Montreal, as well as Cancún, Barcelona, Ankara, Manchester, Kuala Lumpur, Manila, Beirut, and Athens among others. Since October 2006, Mark Weber is CEO of Donna Karan International.
Since 2005, Karan has offered online shopping of its DKNY and associated lines at the label's web site. Products range from DKNY and DKNY Jeans womenswear, accessories, underwear, shoes, baby clothing, the PURE collection to DKNY menswear. The latter was fully available until 2007, after which only the DKNY Jeans label, underwear, eyewear, shoes and watches have been offered online for men. In 2009 select DKNY items for men were for sale online again.
The company maintains design studios, showrooms and offices at 550 Seventh Avenue (Manhattan) (headquarters) and 240 W. 40th St. in New York City.
Related Articles