Coco Chanel (Designer/Founder Chanel)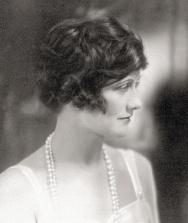 Gabrielle Bonheur "Coco" Chanel (19 August 1883 – 10 January 1971) was a pioneering French fashion designer whose modernist philosophy, menswear-inspired fashions, and pursuit of expensive simplicity made her an important figure in 20th-century fashion.
She was the founder of the famous fashion brand Chanel.
Her extraordinary influence on fashion was such that she was the only person in the field to be named on Time 100: The Most Important People of the Century.

Chanel was born on 19 August 1883 in the small town of Saumur in France. She was the second daughter of Albert Chanel and Jeanne Devolle, a market stallholder and laundrywoman respectively at the time of her birth. Her birth was declared the following day by employees of the hospital in which she was born. They, being illiterate, could not provide or confirm the correct spelling of the surname and it was recorded by the mayor François Poitou as "Chasnel".
This misspelling made the tracing of her roots almost impossible for biographers when Chanel later rose to prominence. Her parents married in 1883. She had five siblings: two sisters, Julie (1882–1913) and Antoinette (born 1887) and three brothers, Alphonse (born 1885), Lucien (born 1889) and Augustin (born and died 1891). In 1895, when she was 12 years old, Chanel's mother died of tuberculosis and her father left the family.

Because of this, the young Chanel spent six years in the orphanage of the Roman Catholic monastery of Aubazine, where she learned the trade of a seamstress. School vacations were spent with relatives in the provincial capital, where female relatives taught Coco to sew with more flourish than the nuns at the monastery were able to demonstrate.

When Coco turned eighteen, she left the orphanage, and the ambitious young girl took off for the town of Moulins to become a cabaret singer. During this time, Chanel performed in clubs in Vichy and Moulins where she was called "Coco." Some say that the name comes from one of the songs she used to sing, and Chanel herself said that it was a "shortened version of cocotte, the French word for 'kept woman," according to an article in The Atlantic.

While she failed to get steady work as a singer, it was at Moulins that she met rich, young French textile heir Étienne Balsan, to whom she soon became an acknowledged mistress, keeping her day job in a tailoring shop. Balsan lavished on her the beauties of "the rich life": diamonds, dresses and pearls. (Note that in France, mistresses have been acknowledged for centuries among the wealthy, though the members of the occupation, such as Chanel, were disparaged in private as upper-class prostitutes.) While living with Balsan, Chanel began designing hats as a hobby, which soon became a deeper interest of hers. "After opening her eyes," as she would say, Coco left Balsan and took over his apartment in Paris.

In 1909 Chanel met and began an affair with one of Balsan's friends, Captain Arthur Edward 'Boy' Capel.

Capel financed Chanel's first shops and his own clothing style, notably his jersey blazers, inspired her creation of the Chanel look. The couple spent time together at fashionable resorts such as Deauville, but he was never faithful to Chanel.

The affair lasted nine years, but even after Capel married an aristocratic English beauty in 1918, he did not completely break off with Chanel. His death in an auto accident, in late 1919, was the single most devastating event in Chanel's life.

According to local report a roadside memorial at the site of the accident was placed there by Chanel, who visited it in after years to place flowers there.

Chanel became a licensed modiste (hat maker) in 1910 and opened a boutique at 21 rue Cambon, Paris named Chanel Modes. Chanel's modiste career boomed once theatre actress Gabrielle Dorziat modelled her hats in the F Noziere's play Bel Ami in 1912 (Subsequently, Dorizat modelled her hats again in Les Modes). In 1913, she established a boutique in Deauville, where she introduced luxe casual clothes that were suitable for leisure and sport. Chanel launched her career as fashion designer when she opened her next boutique, titled Chanel-Biarritz, in 1915, catering for the wealthy Spanish clientele who holidayed in Biarritz and were less affected by the war.Fashionable like Deauville, Chanel created loose casual clothes made out of jersey, a material typically used for men's underwear. By 1919, Chanel was registered as a couturiere and established her maison de couture at 31 rue Cambon.

Later in life, she concocted an elaborate false history for her humble beginnings. Chanel would steadfastly claim that when her mother died, her father sailed for America to get rich and she was sent to live with two cold-hearted spinster aunts. She even claimed to have been born in 1893 as opposed to 1883, and that her mother had died when Coco was two instead of twelve.

In 1920, she was introduced by ballet impresario Sergei Diaghilev to world-famous composer Igor Stravinsky (who composed 'The Rite of Spring'), to whom she extended an offer for him and his family to reside with her. During this temporary sojourn it was rumoured that they had an affair.

Coco dated some of the most influential men of her time, but she never married. The reason may be found in her answer, when asked why she did not marry the Duke of Westminster: "There have been several Duchesses of Westminster. There is only one Chanel."
Related Articles