Elsa Schiaparelli (Iconic Fashion Designer)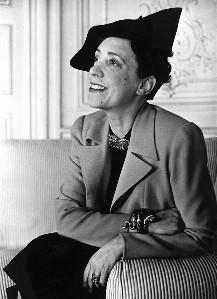 Elsa Schiaparelli (10 September 1890 — 13 November 1973) was an Italian fashion designer. Along with Coco Chanel, her greatest rival, she is regarded as one of the most prominent figures in fashion between the two World Wars. Starting with knitwear, Schiaparelli's designs were heavily influenced by Surrealists like her collaborators Salvador Dalí and Alberto Giacometti. Her clients included the heiress Daisy Fellowes and actress Mae West.

Schiaparelli did not adapt to the changes in fashion following World War II and her business closed in 1954.

In Paris, Schiaparelli - known as "Schiap" to her friends - began making her own clothes. With some encouragement from Paul Poiret, she started her own business but it closed in 1926 despite favourable reviews.

She launched a new collection of knitwear in early 1927 using a special double layered stitch created by Armenian refugees and featuring sweaters with surrealist trompe l'oeil images. Although her first designs appeared in Vogue, the business really took off with a pattern that gave the impression of a scarf wrapped around the wearer's neck.
The "pour le Sport" collection expanded the following year to include bathing suits, skiwear and linen dresses. The divided skirt, a forerunner of shorts, shocked the tennis world when worn by Lili de Alvarez at the Wimbledon Championships in 1931. She added evening wear to the collection in 1931, and the business went from strength to strength, culminating in a move from Rue de la Paix to the Schiap Shop in the Place Vendôme.
A darker tone was set when France declared war on Germany in 1939; Schiaparelli's Spring 1940 collection featured "trench" brown and camouflage print taffetas. Soon after the fall of Paris on 14 June 1940, Schiaparelli sailed to New York for a lecture tour; apart from a few months in Paris in early 1941, she remained in New York until the end of the war.
On her return she found that fashions had changed, with Christian Dior's New Look marking a rejection of pre-war fashion. The house of Schiaparelli struggled in the austerity of the post-war period, and Elsa finally closed it down in December 1954, the same year that her great rival Chanel returned to the business. Aged 64, she wrote her autobiography and then lived out a comfortable retirement between her apartment in Paris and house in Tunisia. She died on 13 November 1973.
Schiaparelli was an innovative woman and fashion designer. She had a lot of "firsts" in the fashion industry. Her career began with her introduction of graphic knitwear to the world of fashion with knit patterns and emblems. These led to her fanciful prints of body parts, food, and many more unusual themes. She was the first to use brightly colored zippers, appearing first on her sportswear in 1930 and again five years later on her evening dresses.
Not only was she the first to use brightly colored zippers, but she was also the first to have them dyed to match the material used in her garments. She was the first to create and use fanciful buttons that looked more like brooches. They came in the shapes of peanuts, bees, and even ram's heads. In Parisian fashion, she invented culottes, introduced Arab breeches, embroidered shirts, wrapped turbans, pompom-rimmed hats, barbaric belts, the "wedge," a soled she that would trend through the 20th century and into the next, and mix-and-match sportswear, the concept of which would not be fully recognized for another forty to fifty years.
While her innovations in fashion design were numerous, it was her creation of the runway show as we know it today that was most influential. Her modern idea of a fashion show included a runway with music and art, and the use of elongated, shapeless women as models. She believed that this boyish figure would best display the clothing. Many people do not realize the true sum of her impact on fashion and the fashion industry.
Related Links:
Elsa Schiaparelli on Wikipedia
Schiaparelli.com