Christabel Pankhurst (Suffragette/ Political Activist)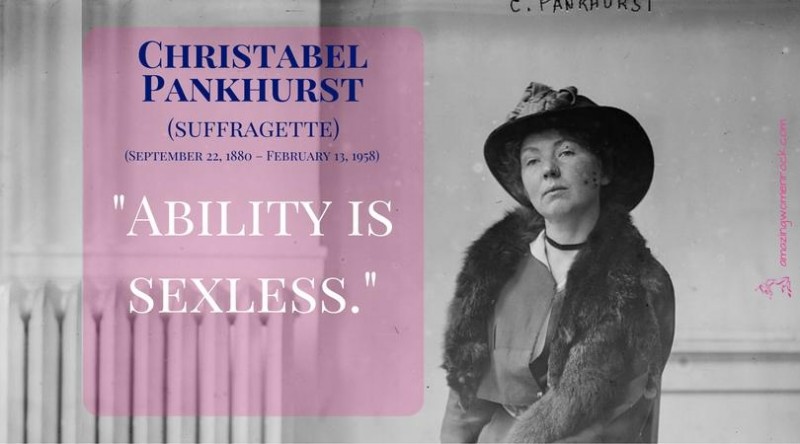 Dame Christabel Harriette Pankhurst, DBE (22 September 1880 – 13 February 1958), was a suffragette born in Manchester, England. A co-founder of the Women's Social and Political Union (WSPU), she directed its militant actions from exile in France from 1912 to 1913.
Her name came from a Coleridge poem. Her mother was Emmeline Pankhurst, one of Britain's best known suffrage leaders of the more radical Women's Social and Political Union (WSPU), founded in 1903. Her father was Richard Pankhurst, a friend of John Stuart Mill, author of On the Subjection of Women. Richard Panhurst, a lawyer, wrote the first woman suffrage bill, before his death in 1898.
The WSPU was founded by Emmeline with Christabel and her sister, Sylvia.
Christabel took up her father's profession, law, studying at Victoria University. She won first-class honors in the LL.B. exam in 1905, but was not permitted to practice law simply because of her gender.
1910 saw the movement turning more violent. Protesters were beaten and killed. When Christabel and her mother were arrested for promoting the idea that women's suffrage activists should enter Parliament, she cross-examined the officials in court proceedings. She was imprisoned. She left England in 1912 when she thought she might be arrested again.
After some British women were granted the right to vote at the end of World War I, Pankhurst stood in the 1918 general election as a Women's Party candidate, in alliance with the Lloyd George/Conservative Coalition in the Smethwick constituency. She was narrowly defeated, by only 775 votes to the Labour Party candidate John Davison.
Leaving England in 1921, she moved to the United States where she eventually became an evangelist with Plymouth Brethren and became a prominent member of Second Adventist movement. Marshall, Morgan, and Scott published her works on subjects related to her prophetic outlook, which took its character from John Nelson Darby's perspectives. Pankhurst lectured and wrote books on the Second Coming. She was a frequent guest on TV shows in the 1950s and had a reputation for being an odd combination of "former suffragist revolutionary, evangelical Christian and almost stereotypical proper 'English Lady' who always was in demand as a lecturer". While in California, she adopted her daughter Betty, finally having recovered from her mother's death.
She returned to Britain for a period in the 1930s and was appointed a Dame Commander of the Order of the British Empire in 1936. At the onset of World War II she again left for the United States, to live in Los Angeles, California.
Christabel died 13 February 1958, at the age of 77, sitting in a straight-backed chair. Her housekeeper found her body and there was no indication of her cause of death. She was buried in the Woodlawn Memorial Cemetery in Santa Monica, California.
Related Articles