Catherine Destivelle (Mountaineer/First Woman to Climb Eiger's North Face Solo)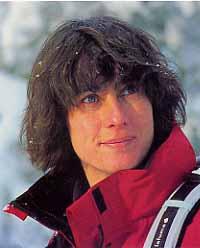 Catherine Monique Suzanne Destivelle (born 24 July 1960) is an Algeria-born French rock climber and mountaineer.
In 1992 she became the first woman to complete a solo ascent of the Eiger's north face. She completed the climb in winter in 15 hours.
Her other notable climbs include the Bonatti Route on the north face of the Matterhorn and the southwest pillar of the Aiguille du Dru (the Bonatti Pillar).
Destivelle has been the subject of several documentaries, including French director Rémy Tezier's, Beyond the Summits (Au-delà des cimes), which won the award for best feature-length mountain film at the 2009 Banff Mountain Film Festival.
This piece documents one of her climbs in Mali in 2008 (scary!):
Catherine Destivelle was born in Oran, Algeria, to French parents, Serge and Annie Destivelle. When Destivelle was a young teenager, the family moved to France where she attended the Lycée Corot in Savigny-sur-Orge. She then studied physiotherapy at the Ecole de kinésithérapie de Paris, and worked as a physiotherapist from 1981 to 1985.
While still a teenager, she had already made several challenging ascents in the Freÿr massif and the Dolomites, but did not take up a full-time professional career in rock and mountain climbing until 1985. The following year, she and her compatriot Patrick Edlinger won the combined final ranking of the Arco di Trento and Bardonecchia climbing championships.
With her fellow alpinist, Érik Decamp, Destivelle climbed the southwest face of Shishapangma in Nepal in 1994 as well as the icefall in Namche Bazaar. During their 1996 expedition to Antarctica, they made the first ascent of "Peak 4111" in the Ellsworth Mountains before the expedition was cut short after Destivelle fell 20 meters (66 ft) while descending from the summit and received a compound fracture of her leg.
The couple married in 1996 and their son, Victor, was born the following year. She began to cut back on solo climbs in the late 1990s and developed an active career as a lecturer and writer.
Related Articles