Arab Women Athletes Must Fight To Compete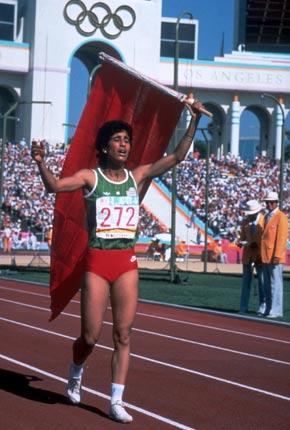 Nawal el-Moutawakel (right), the first Arab Muslim woman to win an Olympic gold medal, on Tuesday called on female athletes in the Gulf to fight for their right to compete, as Kuwaiti lawmakers attempt to ban their national women's football team.
"There is resistance, it is not easy for women to get a red carpet ... So women have to fight for their right," Moutawakel told reporters at a press conference to kickstart the Laureus World Sports Awards in Abu Dhabi.
Moutawakel, a member of the International Olympic Committee (IOC) and Laureus World Sports Academy, won the inaugural women's 400m hurdles event for Morocco at the 1984 Summer Olympics in Los Angeles.
"It is very difficult (for women to compete) and I know when I speak about this. My event was the 400m hurdles with many barriers. There are ups and downs, it's not always flat and smooth."
Islamist lawmakers in Kuwait have called for an investigation into how their national women's football team was allowed to take part in a tournament in Abu Dhabi last month.
MPs in the conservative Muslim country want the team banned and the government to punish officials responsible for allowing the team to compete in the West Asian Football Federation Championship.
The lawmakers are against the women taking part in any outdoor sporting activity.
"This is a minor problem that needs to be solved internally. There is always turbulence in the air, but the landing will be smooth," Moutawakel said.
She said Arab women have made huge progress in the world of sport since she was competing, describing the difference as "like night and day".
Click here to read the full story:
By Dylan Bowman
Maktoob Sport
Related links:
More About The Olympics on AWR