Aung San Suu Kyi (Peace Advocate)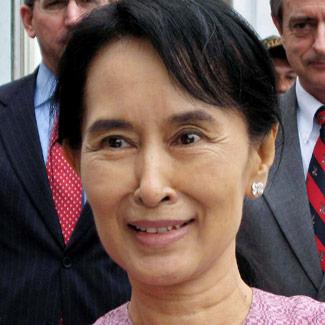 Aung San Suu Kyi (born 19 June 1945) is a Burmese opposition politician and General Secretary of the National League for Democracy (NLD) in Burma.
In the 1990 general election, the NLD won 59% of the national votes and 81% (392 of 485) of the seats in Parliament.
She had already been detained under house arrest before the elections.
In these two 2012 video clips, she talks to CBS news about her confinement, and gives her Nobel Peace Prize acceptance speech (she was awarded the Peace Prize in 1991):
She remained under house arrest in Burma for almost 15 of the 21 years from 20 July 1989 until her most recent release on 13 November 2010, becoming one of the world's most prominent (now former) political prisoners.
Suu Kyi received the Rafto Prize and the Sakharov Prize for Freedom of Thought in 1990 and the Nobel Peace Prize in 1991. In 1992 she was awarded the Jawaharlal Nehru Award for International Understanding by the government of India and the International Simón Bolívar Prize from the government of Venezuela.
In 2007, the Government of Canada made her an honorary citizen of that country; at the time, she was one of only four people ever to receive the honor. In 2011, she was awarded the Wallenberg Medal.

On 1 April 2012, her opposition party, the National League for Democracy, announced that she was elected to the Pyithu Hluttaw, the lower house of the Burmese parliament, representing the constituency of Kawhmu; her party also won 43 of the 45 vacant seats in the lower house.The election results were confirmed by the official electoral commission the following day.

Aung San Suu Kyi was born on 19 June 1945 in Yangon. Her father, Aung San, founded the modern Burmese army and negotiated Burma's independence from the United Kingdom in 1947; he was assassinated by his rivals in the same year. She grew up with her mother, Khin Kyi, and two brothers, Aung San Lin and Aung San Oo in Rangoon.
Her favourite brother Aung San Lin died at age eight, when he drowned in an ornamental lake in the grounds of the house. Her elder brother emigrated to San Diego, California, becoming a United States citizen. After Lin's death, the family moved to a house by Inya Lake where she met people of very different backgrounds, political views and religions. Suu Kyi was educated in Methodist English High School (now Basic Education High School No. 1 Dagon) for much of her childhood in Burma, where she was noted as having a talent for learning languages. She is a Theravada Buddhist.

Suu Kyi's mother, Khin Kyi, gained prominence as a political figure in the newly formed Burmese government. She was appointed Burmese ambassador to India and Nepal in 1960, and Aung San Suu Kyi followed her there, graduating from Lady Shri Ram College with a degree in politics in New Delhi in 1964. Suu Kyi continued her education at St Hugh's College, Oxford, obtaining a B.A. degree in Philosophy, Politics, and Economics in 1969.

After graduating, she lived in New York City with a family friend and worked at the United Nations for three years, primarily on budget matters, writing daily to her future husband Dr. Michael Aris. In 1972, Aung San Suu Kyi married Aris, a scholar of Tibetan culture, living abroad in Bhutan. The following year she gave birth to their first son, Alexander Aris, in London; their second son, Kim, was born in 1977.

Following this, she earned a Ph.D. at the School of Oriental and African Studies, University of London in 1985. She was elected an Honorary Fellow in 1990. For two years she was a Fellow at the Indian Institute of Advanced Studies (IIAS) in Shimla, India. She also worked for the government of the Union of Burma.

In 1988 Suu Kyi returned to Burma at first to tend for her ailing mother but later to lead the pro-democracy movement. Aris's visit in Christmas 1995 turned out to be the last time that he and Suu Kyi met, as Suu Kyi remained in Burma and the Burmese dictatorship denied him any further entry visas. Aris was diagnosed with prostate cancer in 1997 which was later found to be terminal.

Despite appeals from prominent figures and organizations, including the United States, UN Secretary General Kofi Annan and Pope John Paul II, the Burmese government would not grant Aris a visa, saying that they did not have the facilities to care for him, and instead urged Aung San Suu Kyi to leave the country to visit him. She was at that time temporarily free from house arrest but was unwilling to depart, fearing that she would be refused re-entry if she left, as she did not trust the junta's assurance that she could return.

Aris died on his 53rd birthday on 27 March 1999. Since 1989, when his wife was first placed under house arrest, he had seen her only five times, the last of which was for Christmas in 1995. She also remains separated from her children, who live in the United Kingdom.

On 2 May 2008, after Cyclone Nargis hit Burma, Suu Kyi lost her roof and was living in virtual darkness after losing electricity in her dilapidated lakeside residence. She used candles at night as she was not provided any generator set. Plans to renovate and repair the house were announced in August 2009.

In 1990, the military junta called a general election, in which the National League for Democracy (NLD) received 59% of the votes, guaranteeing NLD representation in 80% of the parliament seats. Being the NLD's candidate, Aung San Suu Kyi under normal circumstances would have assumed the office of Prime Minister.

Instead, the results were nullified, and the military refused to hand over power. This resulted in an international outcry. Aung San Suu Kyi was placed under house arrest at her home on University Avenue (16°49′32″N 96°9′1″E / 16.82556°N 96.15028°E / 16.82556; 96.15028) in Rangoon. During her arrest, she was awarded the Sakharov Prize for Freedom of Thought in 1990, and the Nobel Peace Prize the year after. Her sons Alexander and Kim accepted the Nobel Peace Prize on her behalf. Aung San Suu Kyi used the Nobel Peace Prize's 1.3 million USD prize money to establish a health and education trust for the Burmese people.

Aung San Suu Kyi has been placed under house arrest on numerous occasions since she began her political career, totalling 14 of the past 20 years. During these periods, she has been prevented from meeting her party supporters and international visitors. She lives with her two maids and receives visits from her doctor.

In an interview, Suu Kyi said that while under house arrest she spent her time reading philosophy, politics and biographies that her husband had sent her. She would also occupy her time by playing the piano and was occasionally allowed visits from foreign diplomats as well as her personal doctor.
Related Articles