Women Create Peace in Liberia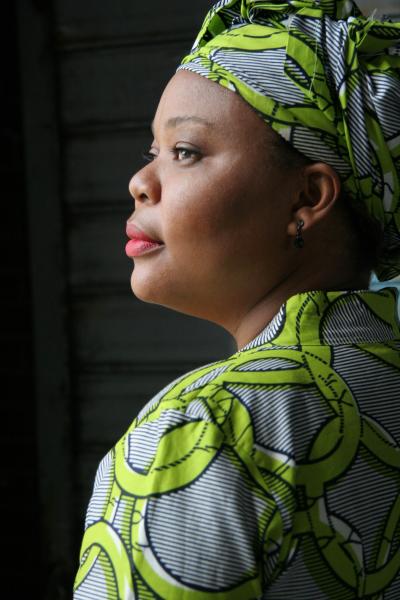 Susan notes: Speaking during the "Rape as a Weapon of War" panel at the Women in the World conference on March 12, 2010, activist and 2011 Nobel Peace Prize Laureate Leymah Gbowee presented a novel idea for addressing the problem of rape in the Congo and elsewhere:
Michelle Obama should call a meeting of African first ladies whom Gbowee asserted, would "come running" at her suggestion.
Also see her story below the video.

This article is condensed from Rabble Rousers (by Kevin Conley), which appeared in the December 2009 issue of O magazine. A link to the original article appears at the end of this slighty edited and abbreviated one.
Leymah Gbowee was born in central Liberia, and grew up in Monrovia, the country's capital. Her father was, in her words, "typical indigenous dirt-poor"; her mother came from the Americo-Liberian elite.
Over the years, her family saw the worst of the sectarian violence associated with the Liberian civil war, which lasted from 1989 to 2003 with only brief interruptions.
One day in 1990 Gbowee and her mother were at one of the city's Lutheran churches, where 2,000 internally displaced persons (IDPs) were being sheltered.
"That morning soldiers came to the church and rounded up several persons and killed them," Gbowee says. "And one of the guys told us, 'You should not stay here tonight, because the group that's coming soon will be worse than us.'"

Thanks to that advice—a murderer's random act of kindness—Gbowee and her mother survived the slaughter that followed: more than 600 people cut down in a single night.

"We went just two blocks away, and we could hear people screaming, crying, begging for help—an all-night massacre."
Bloody Conflict
The war was the result of economic inequality, a struggle to control natural resources, and deep-rooted rivalries among various ethnic groups, including the descendants of the freed American slaves who founded the country in 1847.

It involved the cynical use of child soldiers, armed with lightweight Kalashnikovs, against the country's civilian population. At the center of it all was Charles Taylor, the ruthless warlord who initiated the first fighting and would eventually serve as Liberian president until he was forced into exile in 2003.

Sustained campaigns of rape and mutilation were central to the bloody conflict. In 1996, when Gbowee's son was 3, her daughter 2, and she was five months pregnant, the fighting came so close to their home that she had to rush them all to safety, past checkpoints that fighters sometimes decorated, as she puts it, with "a fresh young head."

They took shelter at her parents' three-bedroom home—along with some 50 other relatives and friends. Every morning the group came together to scrape out a meal from whatever they had. And one morning Gbowee's son told her, "I really am so hungry. I just need a piece of doughnut."

"Nuku," she said, using a pet name for her son Joshua Joseph, "I don't have a piece of doughnut to give you."
Women Build Peace
In that moment Gbowee realized that, thanks to this war, her children had lived in hunger their whole lives. The realization stuck with her. She had become a social worker in 1994, and in 1998 she began counseling former child soldiers; finally, the damage done to all of Liberia's children was more than she could bear.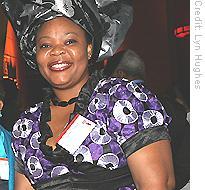 In 2001, she persuaded the women at her church to join her in peace marches and prayer vigils, and, when groups of Muslim women with similar sentiments heard about them and decided to follow suit, Women in Peacebuilding Network (WIPNET) was born.

In 2003 Gbowee was appointed spokesperson, the one to stand before the microphones when the women marched or handed over an official resolution. At such times she felt inspired, as if what she said was "ordained by God."

In 2003, Gbowee confronted President Charles Taylor himself. It was an official event—WIPNET handing over a signed resolution calling for peace; that the women had gotten Taylor there, that their constant presence had gotten his attention at all (as they chanted and sang every day, through monsoons and heat waves, in a field that Taylor passed on his way to work), was stunning.

Taylor had been arguably the most feared warlord in Africa, and his cold-bloodedness hadn't diminished with his rise to the presidency. Now he sat several yards away on a gilt sofa decorated with the official seal of Liberia. The dais on which Gbowee stood was turned toward the audience, but she turned to face Taylor instead. She spoke in the controlled cadence of diplomacy, but the fury behind her words was unmistakable:

"We ask the honorable pro tem of the senate…to kindly present this statement to his excellency Dr. Charles Taylor with this message: that the women of Liberia, including the IDPs…are tired of war. We are tired of running. We are tired of begging for bulgur wheat. We are tired of our children being raped. We are now taking this stand to secure the future of our children because we believe, as custodians of society, tomorrow our children will ask us, 'Mama, what was your role during the crisis?' Kindly convey this to the president of Liberia. Thank you."
Pray the Devil Back to Hell
Gbowee and the women of WIPNET are the subjects of a recently released documentary produced by Abigail Disney, niece of the late Walt Disney's. Called Pray the Devil Back to Hell, it's an upbeat story about an unlikely mix of characters who believed in themselves and kept on doing so through the worst of circumstances and against all odds, all the way to their final triumph. When it premiered at the Tribeca Film Festival earlier this year, it won the festival's award for best documentary feature.

At the climax of the film, nearly 200 women loop arms in the close quarters of the corridor outside the "peace hall," where Taylor's representatives and the rebel warlords are meeting but getting nowhere. The women are blocking the men from leaving the room,

In a conversation with Abigail Disney, Geoffrey Rudd, the European Commission's chargé d'affaires in Liberia, agreed that the women were responsible for Liberia's newfound peace:

'Those women were amazing," he said, "We wouldn't be sitting here in peace, with Ellen in the presidency, if it hadn't been for them. In fact, there's CNN footage of me trying to climb out the window of the negotiating room.'"
Naked Threat Works Wonders
As the drama unfolds in the movie, the generals stuck inside send security forces to arrest Gbowee for obstructing justice.

"And that term 'obstructing justice' was almost like when you take gas and pour it on an open flame," Gbowee says. "I said, 'Okay, I'm going to make it very, very easy for you to arrest me.' I took off my hair tie. They were looking at me, and I said, 'I'm going to strip naked.'"

Throughout West Africa, it's a powerful curse for a woman to strip naked in public—absolute bad luck, bad fortune. And to Gbowee, that's what the situation called for. That morning, she'd heard a report of a missile exploding in the American embassy compound in Monrovia: Two boys had just gone out to brush their teeth, and now all that was left of them was their slippers. "That day we had to do something dramatic," she says.

The moderator of the talks came into the hall to calm her. Gbowee was enraged, but she was also a brilliant tactician. "There were two things playing in our favor," she explains. "One, the peace talks were in Ghana, and the Ghanaians hold strongly to their traditional beliefs. And the men at the table mostly came from indigenous backgrounds and also held strongly to indigenous beliefs. They would have given us the world rather than see us stripping naked."

When a frustrated warlord came out to try to push and kick the women away, Gbowee says the moderator told him, "Go back in there and sit down. If you were a real man, you wouldn't be killing your people. But because you are not a real man, that's why they will treat you like boys."

Two weeks later, the terms of the peace treaty were announced.

Notes:
This article is condensed and slightly edited version of Rabble Rousers (by Kevin Conley), which appeared in the December issue of O magazine. The article describes the collaboration between Leymah Gbowee and Abigail Disney (niece of the late Walt Disney) to produce the documentary movie Pray the Devil Back to Hell.

Here's a trailer for the movie:
Related Articles