7 Holiday Traditions to Bring Your Family Closer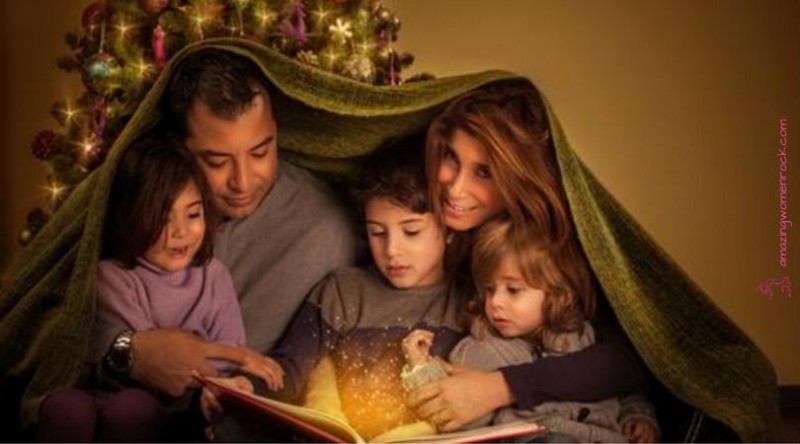 Harsh weather, overspending, sugar-overload, overlapping social engagements and a nagging jealousy of your best friend's Pinterest-perfect holiday snapshots. If your holidays are starting to feel less magical and more like the septic tank disaster from a Griswold family "Christmas Vacation," it's time for a restart. Here are some unique holiday traditions to bring your family closer this year.
1. Reminisce Together
To develop your children's self-confidence and resilience, tell them stories and share pictures about your own childhood and the challenges you faced. This type of storytelling helps children feel they belong to something bigger than themselves, according to psychologists. To involve your children in the storytelling, invite them to tell the family about a challenge they faced and overcame that year. Use a scrapbook, photo book or slideshow to get the stories started.
2. Pose for a Goofy Christmas Photo
Make your Christmas photo part of a fun yearly tradition. Pick a theme, like pirates or an 80's throwback, and go all out with costumes and room decor. Then, ask a neighbor or family friend to snap some goofy photos of your family. When your kids are old enough, get them involved by allowing them to pick the theme.
3. Cook Together
Nothing says happy holidays quite like making messes together in the kitchen. Anything you don't normally make will work, and spending the extra time together will make everyone appreciate the feast even more. Try some kid-friendly recipes like Martha Stewart's homemade hot chocolate, or get fancy with some stuffed french toast for Christmas morning. Alternatively, turn your cookout into a craft fair by building gingerbread houses or sugar cube castles to display in your home for the holidays.
4. Practice Generosity
The Center for Parenting Education recommends using the holiday season to practice kindness and sensitivity as a family. One way to inspire your family and get into the generous spirit is to visit a giving tree at a local church or mall. Collect names off the tree, and then give your children a budget to shop for the person they picked.
5. Read a Book Together
Reading together strengthens your parent-child bond and builds yours child's literacy and socio-emotional skills, according to the American Academy of Pediatrics. This holiday, deepen that bond by reading a classic together like "The Berenstain Bears and the Joy of Giving" or "The Polar Express." For older children, delve into Charles Dickens' "A Christmas Carol" or John Grisham's "Skipping Christmas." Make reading time extra special with flashlights and a family 'camp-out' under the Christmas tree.
6. Warm Fuzzy Christmas Stockings
Help build your children's self-esteem by providing lots of encouragement, support and reward. Instead of filling Christmas stockings with gifts, consider filling the stockings with 'warm fuzzies.' Every day during the month of December, each family member writes down something they appreciate about someone else in the family and puts the note in that person's stocking. On Christmas Eve, open the stockings and read the notes aloud.
7. Adopt Your Ancestor's Traditions
Use the holiday season as an excuse to research your family's ancestry together. Develop a family narrative by reading about your ancestor's past and cultural traditions from their country of origin. Incorporate some of those traditions into your yearly holiday celebrations. If your ancestors originated from Germany, for example, your children could celebrate St. Nicholas Day by setting out their shoes the night of December 5 to be filled with nuts, fruits and candy.
Related Articles