29 Amazing Women Rock TED 2015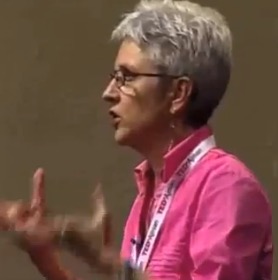 I've been a TEDster for almost a decade, and have had the good fortune of attending TED Global not once but twice. Lucky me!
As a feminist, I have long advocated for more women on TED and TEDx stages worldwide.
For the past several years before each TED and TED Global conference I've compiled a list of the amazing women speakers who will take the stage.
Here are links to past lists:
I've also created a list of 300+ TED talks by amazing TED women. It's here.
Here are the 29 amazing women who will be on the #TED2015 mainstage:
1) Marina Abramovic
Performance artist
The MOMA scene above is explained here.
https://www.magicleap.com/#/home
https://en.wikipedia.org/wiki/Marina_Abramovi%C4%87
2) Stacey Baker
Photo editor
https://twitter.com/StaceyBakerNYT
3) Nathalie Cabrol
Planetary explorer
"We're born explorers."
4) Minna Choi
Music director, Magik*Magik Orchestra
https://twitter.com/magikmagik
5) Valerie Conn
Sentinel
6) Laurie Coots
Health advocate
https://luciditysolutions.net/
7) Alice Goffman
Urban sociologist
https://www.ssc.wisc.edu/soc/faculty/show-person.php?person_id=1335
8) Dana Goodyear
Journalist and poet
https://twitter.com/danagoodyear
9) Elora Hardy
Sustainable designer
10) Sarah Jones
Polymorphic playwright
11) Lorraine Justice
Design scholar
https://lorrainejustice.webs.com/
https://twitter.com/lorrainejustice
12) Suki Kim
Writer
https://twitter.com/sukisworld
13 & 14) The Kitchen Sisters
Radio producers
https://www.kitchensisters.org/
https://twitter.com/kitchensisters
15) Dawn Landes
Singer-songwriter
https://twitter.com/dawnlandes
16) Monica Lewinsky
Social activist
https://www.vanityfair.com/style/society/2014/06/monica-lewinsky-humiliation-culture
https://twitter.com/monicalewinsky
17) Fei-Fei Li
Computer scientist
18) Dame Ellen MacArthur
Circular economy advocate
19) Maryn McKenna
Public health journalist
20) Alisa Miller
CEO, Public Radio International
21) Neri Oxman
Architect, designer
https://neri.media.mit.edu/neri-oxman
https://www.materialecology.com/
22) Esther Perel
Relationship therapist
https://twitter.com/estherperel
23) Pamela Ronald
Plant geneticist
https://indica.ucdavis.edu/ronald_bio/pamcv
https://cropgeneticsinnovation.org/about-pam/
24) Martine Rothblatt
Transhumanist
https://www.terasemmovementfoundation.com/
25) Laura Schulz
Cognitive scientist
26) Sophie Scott
Neuroscientist, stand-up comic
https://sites.google.com/site/speechskscott/
https://twitter.com/sophiescott
27) Sara Seager
Exoplanet expert
https://seagerexoplanets.mit.edu/
https://twitter.com/profsaraseager
28) Dame Stephanie "Steve" Shirley
Entrepreneur and philanthropist
https://www.steveshirley.com/home
29) Noy Thrupkaew
Global journalist
https://www.opensocietyfoundations.org/about/programs/open-society-fellowship/grantees/noy-thrupkaew
Thanks to all these AMAZING #TEDWomen and to #TED for bringing their voices to the mainstage!