Women Soldiers Keep The Peace In Liberia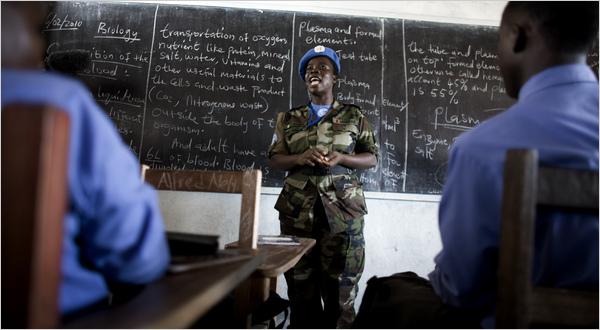 When darkness comes to Congo Town, women in crisp uniforms take the streets, patrolling with Kalashnikov rifles and long, black hair tucked into baby-blue caps.

The brisk sergeant in command, Monia Gusain, matter of factly calls them "my men." But the stern Indian women facing her are actually wives and mothers who wage peace for a living on the rutted dirt roads of Liberia.
The women — part of a special female United Nations police unit from India — lead dual lives: stamping out street crime by night and standing guard under the steamy equatorial sun outside the Monrovia headquarters of the Liberian president, Ellen Johnson Sirleaf. When they retreat, home is a military barracks where they tell bedtime stories to their toddlers via video conference calls.
Together they form the thin pink line of a U.N. recruitment campaign for the 21st century. As it marks the 100th International Women's Day on March 8, the United Nations is intensifying efforts to recruit women for peacekeeping missions that seek to mend what war has wrought.
The theory — which has evolved since pioneering female peacekeepers started participating in U.N. missions in the Balkans in the 1990s — is that women employ distinctive social skills in a rugged macho domain. They are being counted on to bring calm to the streets and the barracks, acting as public servants instead of invaders.
"When female soldiers are present, the situation is closer to real life, and as a result the men tend to behave," said Gerard J. DeGroot, a history professor at the University of St. Andrews in Scotland who has written books about women in the military. "Any conflict where you have an all-male army, it's like a holiday from reality. If you inject women into that situation, they do have a civilizing effect."
As modern peacekeeping has evolved into nation building, the number of female police officers in U.N. peacekeeping missions around the world has doubled during the past five years to 833, or more than 6 percent of a force of 12,867. Nigeria and India are top contributors to a total that is still far below the international goal of 20 percent. In some missions — notably Darfur and Liberia — women are edging closer: Women account for 14 percent of the 1,354 police peacekeepers in Liberia.
Click here to read the full story:
By Doreen Carvajal
New York Times
Photo credit:
International Herald Tribune
Related links:
Women Create Peace In Liberia
Related Articles