Top 5 Safety Tips for Women Living Alone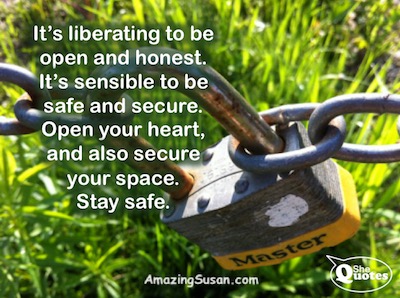 Guest blog post by Harper Kelly
For women of all ages, living alone comes with extra precautions that are necessary to ensure day-to-day safety.
Luckily, it's possible to implement personal safety into your daily routine without feeling like a prisoner in your own home.
The following tips will lessen your chances of being attacked when living by yourself.
1. Familiarize Yourself With the Neighborhood
By learning the patterns of the neighborhood, you'll be more likely to tell when something suspicious is taking place. So, make note of which neighbors are out walking in the morning, afternoon, and night.
Also, pay close attention to unfamiliar vehicles that are roaming the streets at odd hours. In addition, it's a good idea to introduce yourself to your neighbors, but don't give away too much too soon until you can trust them as well.
2. Outdoor Safety
Whether you live in a house or apartment, outdoor security is just as important as indoor security. So, be aware of outdoor blind spots surrounding your home where intruders are likely to hide as in stairwells and behind bushes.
If your home is particularly dark at night and lacks any form of street lighting, add outdoor accent lighting or motion sensing floodlights. Also, make sure your street number is well-lit in case police need to find your residence.
And, it doesn't matter if you have street parking or a driveway, it's always a good idea to park in plain sight and if possible, near a source of light at night.
3. Install a Security System
The best line of defense in protecting yourself as well as your home is by installing a home security system. Here's a "Top Ten" review of some you might find on the market. Not all home security systems are built the same, so it's best to choose a system that fits your needs. Some offer simple entry alarms that sound upon forced entry while others offer monitored security complete with automatic police response if anything goes awry.
4. Keep Connected With Friends and Family
Calling both friends and family on a regular basis keeps your loved ones in the loop as far as your daily activities are concerned. So, if a day passes without a phone call on your behalf, others will immediately know something is wrong.
Social media and texting are also great alternatives for checking in with others when you live alone. A simple Facebook update or sending a text to your best friend will let your loved ones know you're safe and sound.
5. Spare Keys and Peep Holes
You should keep a list of everyone who has a key to your house and keep the list short. And, never hide a spare key in the obvious spots like under the doormat. Also, with apartment living, you shouldn't hide a spare at all as hiding spots are common from one building to the next.
Likewise, always use the front door's peephole when someone knocks as opposed to opening the door and relying on the safety chain.
By playing it safe on a daily basis when living alone, you'll have the peace of mind and assurance in knowing you're secure.
Harper Kelly is Florida native hung up on all things social media, writing, and running. When she's not scoping out the new trails in Tampa you can find her browsing the web and writing about technology, traveling, and food. Follow her journey on Twitter @harperkellyh.
Related Articles