Suheir Hammad Performs Poems of War, Peace, Women & Power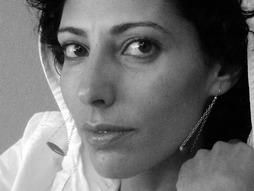 Poet Suheir Hammad performs two spine-tingling spoken-word pieces: "What I Will" and "break (clustered)" -- meditations on war and peace, on women and power.

Wait for the astonishing line: "Do not fear what has blown up. If you must, fear the unexploded."
In her poems and plays, Suheir Hammad blends the stories and sounds of her Palestinian-American heritage with the vibrant language of Brooklyn to create a passionately modern voice.
Suheir Hammad is the author of breaking poems, recipient of a 2009 American Book Award and the Arab American Book award for Poetry 2009.
Her other books are ZaatarDiva; Born Palestinian, Born Black; and Drops of This Story. Her work has been widely anthologized and also adapted for theater.
Her produced plays include Blood Trinity and breaking letter(s), and she wrote the libretto for the multimedia performance Re-Orientalism.

An original writer and performer in the Tony-winning Russell Simmons Presents Def Poetry Jam on Broadway, Suheir appears in the 2008 Cannes Film Festival Official Selection Salt of This Sea. She is the Artist in Residency at the NYU's APA Institute for 2010.
Susan notes: The words to the poem What I Will are here: What I Will: Slam Poetry That Slams War
Thanks to TED for making TED Talks downloadable and embeddable, and for providing the biographical information that goes along with them.
Related Articles