Sadaf Shah (Charity Director/HR Professional/Mom)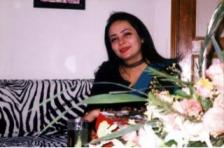 Susan notes: AWR member and fan Sadaf Shah wrote to me saying she wanted to share a story about Hafeeza, her blind masseuse. I was moved by the beautiful and simple piece when it arrived in my inbox, and I in return asked Sadaf to tell me a bit more about herself. This is what she emailed back:
About me: well as you can see in my signature I am a director of the International Commission on Workforce Development (ICWFD), which a California based 501(c)3 Non-Profit public charity organization that enables the workforce of G77 Developing Countries and disadvantaged sectors of countries with developed economies to compete in the current and future global economy.

I also handle human resources in my husband's group of companies, and run my own non-government organisation called R.E.S.C.U.E (Resources for Educational Systems for the Children, the Underprivileged and the Elderly).

I do a lot of volunteer social work in Schools for the needy and with people like Hafeeza and her family. I'm also writing a book on Herbal remedies called God's Pharmacy .

That basically sums it up! And oh I have also worked with Time Warner's publishing division Time Life in Pakistan from 1995 to year 2000. Was their top seller in 20 years history, after which I did my masters in finance and marketing.
I'm happily married and have a 15-year-old son.
Related Articles