Smiling Hafeeza: Inspiring Story Beautifully Told
By Sadaf Shah
May 21, 2010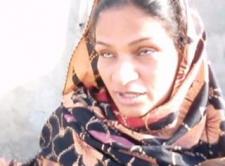 I met Hafeeza a year and a half ago when she was eight moths pregnant with her third child.

I was desperate to get a massage and found her number from a relative of hers. We set up a time for the next day after I called her on her cell number. She laughingly told me that she was very much pregnant and that I should not worry as she can still do a good massage.

Next day she arrived right on time, my cleaning lady led her by the hand up the stairs and into my bedroom. Hafeeza had a smile on her face she took of her head scarf, put her hand bag in a corner took her cell phone out and put it where she could find it easily in case somebody called.

Later I realized the smile was a permanent feature. I laid out a mattress on the floor and gave her three separate oils one for my hair, one for my face and one for my body. She put them in order and began the most wonderful massage I had ever experienced. On my request she started telling me about herself...

Hafeeza was born blind. She is one among 13 siblings. All are normal except the brother immediately older to her. She comes from a poor family. Her father who died 2 years ago was a guard in an electronics factory and mother is a housewife.

At the age of 10 yrs Hafeeza started going to the nearby mosque to memorize Quran. She knows many Arabic versus by heart. At the age of 16 yrs she was married to her first cousin.

Her husband divorced her months after their marriage when she requested him for some money. At the time she was pregnant with her first child. Her son Madad Ali was born in 1993, a few months after her divorce and to her dismay she found out he was blind too.

Her illiterate family would tell her not to breast feed the baby as it would make him worse and she would hide in the covers and feed her son, after all she was a mom though only 17 at the time but with a mothers loving and caring heart.

When she got over the shock of her divorce and the blind son she got out of the house to find some work. Started washing dishes and clothes in several houses.

She met a kind lady in one of these houses named Hannah. She taught Hafeeza all about massaging and later introduced her to a Chinese family who had a parlor in Lahore, Pakistan.The girls Maggie and Lilly taught her the art of Chinese massage and introduced her to many women who wanted massages in the privacy of their homes. Hafeeza started massaging women in mid 90s.

Initially, she charged them only US$ 1/= per massage (which at that time was equivalent to Pakistani Rs 50). One massage lasted for two hours. She started doing 4 to 5 massages a day and according to her class and daily wage standards she was minting money.

There was a time she could not handle so many massages, so she trained her mother and all her sisters on how to do a good massage. She was dependent on others to take her to her clients, and gradually they started going to all her contacts themselves.

In 2001, when she was 24, her family got a proposal to marry her to a 60 yrs old widower who had a grown married daughter and a son. Her family accepted thinking who would ever marry their blind divorced daughter.

Hafeeza's husband Muhammad Ali was very supportive of her work and would take her for massages on a bicycle or a rickshaw. Initially her step daughter gave her a lot of trouble even threw her dowry outside the house and quarreled with her a lot but Hafeeza's fear of a second divorce made her quiet and patient and she finally won over the step daughter's heart.

In 2004 Hafeeza had her second son, and to her delight the baby could see. She named him Abdullah. He is studying in a regular school and was recently promoted to grade one.

Last year on April 5, a month after she gave me the first massage, Hafeeza had a normal daughter. She named her Khadija Sawera (meaning beautiful morning). The baby is adorable and the light of her life. Though the baby was unplanned but her arrival did cheer up Hafeeza and her family.

Unfortunately her pregnancy and childcare after the baby was born, affected her work tremendously. Her own family would call her contacts and tell them that with two little children Hafeeza is unable to do massages and gradually people started calling them instead of her.

A month after her baby's birth when I called her for a massage she came readily and to my surprise she had drastically shrunken in size. I told her no one can say you had a baby a month ago. She smilingly said, "when there is nothing to eat and I still have to breast feed my baby how can I retain any weight?"

My heart went out to her. That day she massaged me for three hours and we talked about many things. She opened up her heart to me and told how her own family had stolen all the numbers of her clients from her cell phone and started massaging them.

Now a days she charges Rs 500/ per massage which is equivalent to US $ 5/= and she only gets 1 or 2 massages in a week. An old husband who cooks and cleans for her and three children to feed. I wonder how she manages to feed and clothe them and to pay for electricity water and gas in approximately Us $ 40/= per month.

This amazing woman never asks for extra money or anything; her only request to me was to find a job for her 17 years old son Madad Ali. Last month my husband and I decided to hire him as a telephone operator in our office on trial basis.

To our surprise the young man memorized all extension numbers and important telephone numbers in a few days. He is now on our permanent payroll as the company's telephone operator.

Hafeeza is so happy that at least now her son has a regular income and that his very disturbed nature has calmed down and regular work has turned him into a serene and content young man.

This smiling Hafeeza operates her cell phone without any problem, memorizes telephone numbers, does household work, bathes and clothes her children and is an inspiration to all of us.

I feel she has eyes in her magical fingers, while massaging she can tell exactly tell what the problem is with one's body only by touching the soles of the feet.

Even when she is upset and totally hand to mouth, her positive outlook towards life is very inspiring, and to every problem her only answer is in "God's will is my will."

Hats off to you Smiling Hafeeza!

Related links:
Smiling Hafeeza: A Simple Yet Inspiring Story Beautifully Told