Patti & Susan's Dance Video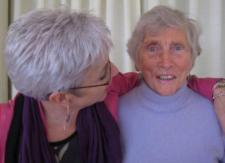 Susan notes: This video was inspired by Matt Harding's videos (www.wherethehellismatt.com), in which Matt dances at a host of locations, with people of all ages and nationalities around the world. His most recent video was sponsored by Stride Gum, the fabulous music is by Garry Schyman, the lyrics are sung beautifully by Palbasha Siddique.
To watch Where the Hell is Matt? (2008) click here.
To know more about THIS video click here.
Related Articles