Michelle Obama's Plea For Education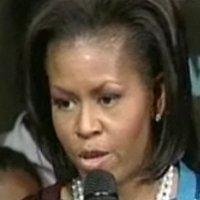 Speaking at a London girls' school in 2009, Michelle Obama makes a passionate, personal case for each student to take education seriously.
It is this new, brilliant generation, she says, that will close the gap between the world as it is and the world as it should be.
Michelle Obama's life as First Lady of the United States is informed by her early life, growing up as the daughter of a pump operator for the Chicago water department.
Though money was tight, her parents emphasized education and possibility for their two brilliant children.
Both kids went to Princeton (her older brother, Craig Robinson, was a bond trader, then become a much-respected basketball coach at Brown and now Oregon State University); Michelle went on to Harvard Law School, and returned to Chicago to do corporate law at the firm where she met her future husband, Barack Obama.
She left corporate law to become a civil servant, working in planning, social outreach and administration with the city of Chicago, AmeriCorps and the University of Chicago Medical Center.
Today, Michelle Obama's personal focus is on raising her own two children, Malia and Sasha, in the glare of White House life. Her more outward focus, as First Lady, also revolves around issues of work-life balance; she's a passionate supporter of military families and of working mothers.
She's helping to lead the drive for national service, encouraging Americans to volunteer in their own communities. (And of course, she's become an international fashion icon too.)

Susan notes: Thanks to TED for making TED Talks downloadable and embeddable, and for providing the biographical information that goes along with them.
Related Articles