Malalai Joya A Thorn In The Side Of The Loya Jirga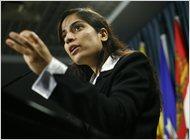 Susan notes: this story is part of The Female Factor, a year-long series of investigative stories, articles, and mulit-media reports by the International Herald Tribune.
The series includes an international forum where women around the world share their views on topical issues - definitely worth a visit.
She has been expelled from Parliament. She has been barred from appearing in the Afghan media after denouncing the role of the warlords in politics.
What is more, she has received so many death threats that she now lives what she calls a fugitive's life, changing safe houses every night under the protection of her bodyguards and her burqa.
Even the flowers at her wedding were checked for bombs.
But Ms. Joya, 31, is speaking out nonetheless, hoping to engineer a political comeback in legislative elections scheduled for September.
Long an activist for democracy and women's rights, Ms. Joya has survived at least four assassination attempts.
"My agenda is clear," she said last month while in Paris for the French publication of her memoir, "A Woman Among Warlords." "I'm risking my life to one day bring these criminals to court."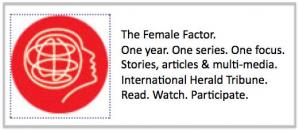 Her confrontational approach has made her the scourge of many of the powers that be in her country. But it has also divided those who might be considered her allies.
Nader Nadery, head of the Afghan Independent Human Rights Commission, called her "a populist" during a newspaper interview last year, and said that "this is not always helpful.
By law, 25 percent of seats in the Afghan Parliament are reserved for women. But Samira Hamidi, country director for the advocacy group Afghan Women's Network, said she feared that security problems, and a lack of education and experience, would block the fulfillment of that promise.
Moreover, planned amendments to Afghan electoral law, including one that stipulates that any vacant seat be filled, will erode female representation, Ms. Hamidi said during an interview by telephone last month. "If we don't get women from remote provinces, that means those seats will be filled by men, and that will decrease the number of women in Parliament."
Click here for the full story:
By Caroline Brothers
New York Times
Photo Credit:
Blair Gable/Reuters
Related Articles