Madeleine Albright On Being A Woman And A Diplomat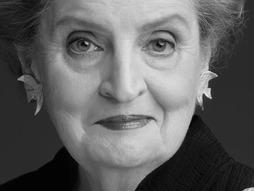 Former US Secretary of State Madeleine Albright talks bluntly about politics and diplomacy, making the case that women's issues deserve a place at the center of foreign policy.

Far from being a "soft" issue, she says, women's issues are often the very hardest ones, dealing directly with life and death. A frank and funny Q&A with Pat Mitchell from the Paley Center.
Since leaving office as US Secretary of State in 2001, Madeleine Albright has continued her distinguished career in foreign affairs as a businesswoman, political adviser and professor.

Madeleine Albright is one of America's leading authorities on foreign affairs. Unanimously confirmed as the first female Secretary of State in 1997, she became the highest-ranking woman in U.S. government history.

During her four-year tenure, Albright reinforced U.S. alliances, advocated for democracy and human rights, and promoted American trade, business, labor and environmental standards abroad.
Since then, Albright has continued her distinguished career as a businesswoman, political adviser and professor. She is chair of Albright Stonebridge Group, a global strategy firm, and Albright Capital Management LLC, an investment advisory firm focused on emerging markets.

Albright also chairs the National Democratic Institute for International Affairs and the Pew Global Attitudes Project and serves on the boards of the Council on Foreign Relations, the Aspen Institute and the Center for a New American Security. She also teaches diplomacy at Georgetown's School of Foreign Service.
Susan notes: Thanks to TED for making TED Talks downloadable and embeddable, and for providing the biographical information that goes along with them.
Related Articles