Madeline Albright (First Woman U.S. Secretary of State)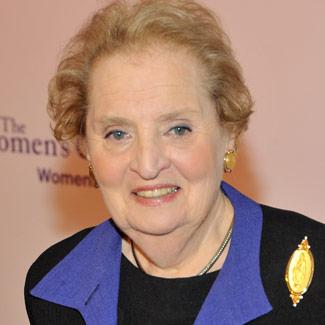 Madeleine Korbel Albright (born May 15, 1937) is the first woman to become a United States Secretary of State.
She was appointed by U.S. President Bill Clinton on December 5, 1996, and was unanimously confirmed by a U.S. Senate vote of 99-0. She was sworn in on January 23, 1997.
Albright now serves as a Professor of International Relations at Georgetown University's Walsh School of Foreign Service. In addition to her PhD from Columbia University.
She also holds Honorary Doctors of Laws awarded by the University of Washington in 2002; Smith College in 2003; University of Winnipeg in 2005; the University of North Carolina at Chapel Hill in 2007, and Knox College in 2008.
Secretary Albright also serves as a Director on the Board of the Council on Foreign Relations.
Albright is fluent in English, French, Russian, and Czech; she speaks and reads Polish and Serbo-Croatian as well.
Albright spent her teen years in Denver, and graduated from the Kent Denver School in Cherry Hills Village, a suburb of Denver, in 1955, where she founded the school's international relations club and was its first president. She attended Wellesley College, in Wellesley, Massachusetts, on a full scholarship, majoring in political science and graduated in 1959. Her senior thesis was written on Czech Communist Zden?k Fierlinger. She became a U.S. citizen in 1957, and joined the College Democrats of America.
While home in Denver from Wellesley, Albright worked as an intern for The Denver Post, where she met Joseph Medill Patterson Albright, the nephew of Alicia Patterson, owner of Newsday and wife of philanthropist Harry Frank Guggenheim. The couple were married in Wellesley in 1959, shortly after her graduation. They lived first in Rolla, Missouri, while he served his military service at nearby Fort Leonard Wood. During this time, she worked at the Rolla Daily News.
In January 1960 the couple moved to his hometown of Chicago, Illinois, where he worked at the Chicago Sun-Times as a journalist, and Albright worked as a picture editor for Encyclopædia Britannica. The following year, Joseph Albright began work at Newsday in New York City, and the couple moved to Garden City on Long Island.
That year, she gave birth to twin daughters, Alice Patterson Albright and Anne Korbel Albright. The twins were born six weeks premature, and required a long hospital stay, so as a distraction, Albright began Russian classes at Hofstra University in Village of Hempstead, New York.
In 1962, the family moved to Georgetown in Washington, D.C., and Albright began studying international relations and continued studying Russian at the Paul H. Nitze School of Advanced International Studies at Johns Hopkins University in Washington DC. However, in 1963 Alicia Patterson died, and the family returned to Long Island with the notion of Joseph taking over the family business.
Albright gave birth to another daughter, Katherine Medill Albright, in 1967, and continued her studies at Columbia University's Department of Public Law and Government (later renamed as the political science department, which is located within the School of International and Public Affairs). She earned a certificate in Russian, a Masters of Arts and Doctor of Philosophy, writing her Master's thesis on the Soviet diplomatic corps, and her doctoral dissertation on the role of journalists in the Prague Spring of 1968. She also took a graduate course given by Zbigniew Brzezinski, who would later be her boss at the U.S. National Security Council.
Albright returned to Washington in 1968, and commuted to Columbia for her PhD, which she received in 1975. She began fund-raising for her daughters' school, involvement which led to several positions on education boards. She was eventually invited to organize a fund-raising dinner for the 1972 presidential campaign of U.S. Senator Ed Muskie of Maine. This association with Muskie led to a position as his chief legislative assistant in 1976.
However, after the 1976 U.S. presidential election of Jimmy Carter, Albright's former professor Brzezinski was named National Security Advisor, and recruited Albright from Muskie in 1978 to work in the West Wing as the National Security Council's congressional liaison. Following Carter's loss in 1980 to Ronald Reagan, Albright moved on to the Woodrow Wilson International Center for Scholars at the Smithsonian Institution in Washington, D.C., where she was given a grant for a research project.
She chose to write on the dissident journalists involved in Poland's Solidarity movement, then in its infancy but gaining international attention. She traveled to Poland for her research, interviewing dissidents in Gdansk, Warsaw and Krakow. Upon her return to Washington, her husband announced his intention to divorce her for another woman.
Albright joined the academic staff at Georgetown University in Washington, D.C., in 1982, specializing in Eastern European studies. She has also directed the University's program on women in global politics. She has also served as a major Democratic Party foreign policy advisor, and briefed Vice-Presidential candidate Geraldine Ferraro in 1984 and Presidential candidate Michael Dukakis in 1988 (both campaigns ended in defeat). In 1992, Bill Clinton returned the White House to the Democratic Party, and Albright was employed to handle the transition to a new administration at the National Security Council. In January 1993, Clinton nominated her to be U.S. Ambassador to the United Nations, her first diplomatic posting.
When Albright took office as the 64th U.S. Secretary of State on January 23, 1997, she became the first female U.S. Secretary of State and the highest-ranking woman in the history of the U.S. government. Not being a natural-born citizen of the U.S., she was not eligible as U.S. Presidential successor and was excluded from nuclear contingency plans. In her position as Secretary of State, Albright reinforced the U.S.'s alliances; advocated democracy and human rights; and promoted American trade and business, labor and environmental standards abroad.
During her tenure, Albright considerably influenced American policy in Bosnia and Herzegovina and the Middle East. She incurred the wrath of a number of Serbs in the former Yugoslavia for her role in participating in the formulation of US policy during the Kosovo War and Bosnian war as well as the rest of the Balkans.
But, together with President Bill Clinton, she remains a largely popular figure in the rest of the region, especially Bosnia and Herzegovina, Kosovo, and Croatia. According to Albright's memoirs, she once argued with Colin Powell for the use of military force by asking, "What's the point of you saving this superb military for, Colin, if we can't use it?"
As Secretary of State she represented the U.S. at the Transfer of sovereignty over Hong Kong on July 1, 1997. She boycotted the swearing-in ceremony of the China-appointed Hong Kong Legislative Council, which replaced the elected one, along with the British contingents.
According to several accounts, U.S. Ambassador to Kenya Prudence Bushnell repeatedly asked Washington for additional security at the embassy in Nairobi, including in an April 1998 letter directly to Albright. Bushnell was ignored. In "Against All Enemies," Richard Clarke writes about an exchange with Albright several months after the US embassies in Kenya and Tanzania were bombed in August 1998.
"What do you think will happen if you lose another embassy?" Clarke asked. "The Republicans in Congress will go after you." "First of all, I didn't lose these two embassies," Albright shot back. "I inherited them in the shape they were." Albright was booed in 1998 when the brief war threat with Iraq revealed that citizens were opposed to such an invasion, although this is often overlooked.
In 1998, at the NATO summit, Albright articulated what would become known as the "three Ds" of NATO, "which is no diminution of NATO, no discrimination and no duplication—because I think that we don't need any of those three "Ds" to happen."
Both Bill Clinton and Albright insisted that an attack on Hussein could be stopped only if Hussein reversed his decision to halt arms inspections. "Iraq has a simple choice. Reverse course or face the consequences," Albright said.
In 2000, Albright became one of the highest level Western diplomats ever to meet Kim Jong-il, the communist leader of North Korea, during an official state visit to that country.
In one of her last acts as Secretary of State, Albright on January 8, 2001, paid a farewell call on Kofi Annan and said that the U.S. would continue to press Iraq to destroy all its weapons of mass destruction as a condition of lifting economic sanctions, even after the end of the Clinton administration on January 20, 2001.
Related Links:
Madeline Albright on Wikipedia
US Department of State