Jane Goodall (Primatologist/And MORE!)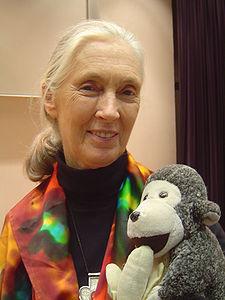 Dame Jane Morris Goodall, DBE (born Valerie Jane Morris-Goodall on 3 April 1934), is a British primatologist, ethologist, anthropologist, and UN Messenger of Peace.
Considered to be the world's foremost expert on chimpanzees, Goodall is best known for her 45-year study of social and family interactions of wild chimpanzees in Gombe Stream National Park, Tanzania.
She is the founder of the Jane Goodall Institute and has worked extensively on conservation and animal welfare issues.
Jane Goodall was born in London, England in 1934 to Mortimer Herbert Morris-Goodall, a businessman and Margaret Myfanwe Joseph, a novelist who wrote under the name Vanne Morris-Goodall. As a child she was given a lifelike chimpanzee toy named Jubilee by her father; her fondness for the toy started her early love of animals.
Today, the toy still sits on her dresser in London. As she writes in her book, Reason For Hope: "My mother's friends were horrified by this toy, thinking it would frighten me and give me nightmares."
Goodall had always been passionate about animals and Africa, which brought her to the farm of a friend in the Kenya highlands in 1957. From there, she obtained work as a secretary, and acting on her friend's advice she telephoned Louis Leakey, a Kenyan archaeologist and paleontologist, with no other thought than to make an appointment to discuss animals.

Leakey, believing that the study of existing great apes could provide indications of the behaviour of early hominids, was looking for a chimpanzee researcher though he kept the idea to himself. Instead, he proposed that Goodall work for him as a secretary. After obtaining his wife Mary Leakey's approval, Louis sent Goodall to Olduvai Gorge in Tanzania, where he laid out his plans.

In 1958, Leakey sent Goodall to London to study primate behavior with Osman Hill and primate anatomy with John Napier. Leakey raised funds, and in 1960 Goodall went to Gombe Stream National Park becoming the first of "Leakey's Angels". She was accompanied by her mother whose presence was necessary to satisfy the requirements of David Anstey, chief warden, who was concerned for their safety; Tanzania was "Tanganyika" at that time and a British protectorate.

Leakey arranged funding and in 1962 sent Goodall, who had no degree, to Cambridge University where she obtained a Ph.D degree in Ethology. She became only the eighth person to be allowed study for a Ph.D without first obtaining a BA or B.Sc. Her thesis was completed in 1965 under the tutorship of Robert Hinde, former master of St. John's College, Cambridge, titled "Behavior of the Free-Ranging Chimpanzee," detailing her first five years of study at the Gombe Reserve.

Goodall has been married twice. On 28 March 1964 she married wildlife photographer Baron Hugo van Lawick at Chelsea Old Church, London, becoming Baroness Jane van Lawick-Goodall. The couple had a son, Hugo Eric Louis, affectionately known as 'Grub', who was born in 1967. They divorced amicably in 1974. In 1975 she married Derek Bryceson (a member of Tanzania's parliament and the director of that country's national parks) and they remained married until his death from cancer in October 1980. Goodall still wears Bryceson's wedding ring, and their marriage has been described as "blissful." With his position in the Tanzanian government as head of the country's national park system, Bryceson was able to protect Goodall's research project and implement an embargo on tourism at Gombe while he was alive.

Goodall is best known for her study of chimpanzee social and family life. She began studying the Kasakela chimpanzee community in Gombe Stream National Park, Tanzania in 1960. Without collegiate training directing her research, Goodall observed things that strict scientific doctrines may have overlooked. Instead of numbering the chimpanzees she observed, she gave them names such as Fifi and David Greybeard, and observed them to have unique and individual personalities, an unconventional idea at the time.

She found that, "it isn't only human beings who have personality, who are capable of rational thought [and] emotions like joy and sorrow." She also observed behaviors such as hugs, kisses, pats on the back, and even tickling, what we consider "human" actions. Goodall insists that these gestures are evidence of "the close, supportive, affectionate bonds that develop between family members and other individuals within a community, which can persist throughout a life span of more than 50 years." These findings suggest similarities between humans and chimpanzees exist in more than genes alone, but can be seen in emotion, intelligence, and family and social relationships.
Related Articles