Jacqueline Bouvier Kennedy Onassis (First Lady 1961-1963/Book Editor)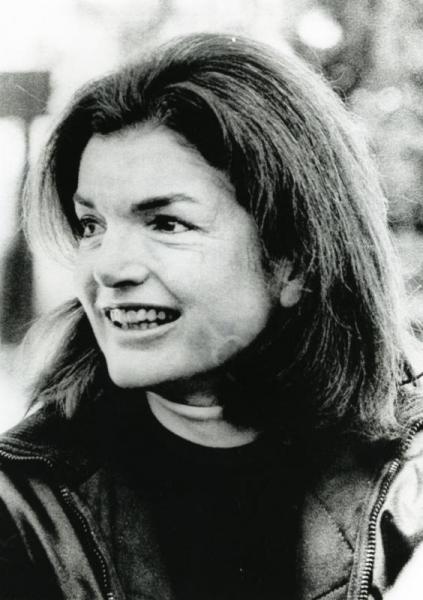 Jacqueline Lee Bouvier Kennedy Onassis (July 28, 1929 – May 19, 1994) was the wife of the 35th President of the United States, John F. Kennedy, and served as First Lady during his presidency from 1961 until his assassination in 1963.
She was later married to Greek shipping magnate Aristotle Onassis from 1968 until his death in 1975.
For the final two decades of her life, she had a successful career as a book editor.
She is remembered for her contributions to the arts and historic preservation, her style and elegance, and her public stoicism in the wake of President Kennedy's assassination.
Jacqueline Lee Bouvier was born in Southampton, New York, to Wall Street stock broker John Vernou Bouvier III and Janet Norton Lee. Jacqueline had a younger sister, Caroline Lee (known as Lee), born in 1933.
Her parents divorced in 1940 and her mother married Standard Oil heir Hugh D. Auchincloss, Jr. in 1942. Through Janet's second marriage, Jacqueline gained a half sister and a half brother, Janet and James Auchincloss.
Her mother's family, the Lees, were mostly of Irish descent, and her father, John Vernou Bouvier III, was descended from French and English people. Michel Bouvier, Jacqueline's great-great-grandfather, was born in France and was a contemporary of Joseph Bonaparte and Stephen Girard. He was a Philadelphia-based cabinetmaker, carpenter, merchant and real estate speculator. Michel's wife, Louise Vernou was the daughter of John Vernou, a French émigré tobacconist and Elizabeth Clifford Lindsay, an American born woman.
Jacqueline's grandfather, John Vernou Bouvier Jr., fashioned a more noble ancestry for his family in his vanity family history book Our Forebears. Recent scholarship and the research done by Jacqueline's cousin, John H. Davis, in his book The Bouviers: Portrait of an American Family, have disproved most of these fantasy lineages.

She spent her early years in New York City and East Hampton, New York at the Bouvier family estate, "Lasata". Following their parents' divorce, Jacqueline and Lee divided their time between their mother's homes in McLean, Virginia and Newport, Rhode Island and their father's homes in New York City and Long Island. She attended the Chapin School in New York City.

At a very early age she became an enthusiastic equestrienne, and horse-riding would remain a lifelong passion. As a child, she also enjoyed drawing, reading and lacrosse.

Jacqueline and then-Senator John Kennedy belonged to the same social circle and often attended the same functions. In May 1952, at a dinner party organized by mutual friends, they were formally introduced for the first time. The two began dating soon afterward, and their engagement was officially announced on June 25, 1953.

Bouvier married Kennedy on September 12, 1953, at St. Mary's Church in Newport, Rhode Island in a Mass celebrated by Boston's Archbishop Richard Cushing. An estimated 700 guests attended the ceremony and 1,200 attended the reception that followed at Hammersmith Farm.

The wedding cake was created by Plourde's Bakery in Fall River, Massachusetts. The wedding dress, now housed in the Kennedy Library in Boston, Massachusetts, and the dresses of her attendants were created by designer Ann Lowe of New York City.

The two honeymooned in Acapulco, Mexico, and settled in McLean, Virginia.

Jacqueline suffered a miscarriage in 1955 and gave birth to a stillborn baby girl in 1956. That same year, the couple sold their estate, Hickory Hill, to Robert Kennedy and his wife Ethel, and moved to a townhouse on N Street in Georgetown. Kennedy subsequently gave birth to a second daughter, Caroline, in 1957, and a son, John, in 1960, both via Caesarian section.

In the general election on November 8, 1960, John F. Kennedy narrowly beat Republican Richard Nixon in the U.S. presidential election. A little over two weeks later, Jacqueline Kennedy gave birth to the couple's first son, John, Jr. When her husband was sworn in as president on January 20, 1961, Kennedy became, at age 31, one of the youngest First Ladies in history, behind Frances Folsom Cleveland and Julia Tyler.

Like any First Lady, Kennedy was thrust into the spotlight and while she did not mind giving interviews or being photographed, she preferred to maintain as much privacy as possible for herself and her children.

Kennedy is remembered for reorganizing entertainment for White House Social events, seeking to restore several White House interiors, her taste in clothing worn during Kennedy's Presidency, her popularity among foreign dignitaries, and leading the country in mourning after her husband's assassination in 1963.

Kennedy ranks among the most popular of First Ladies ever.
Related Articles