Diana, Princess of Wales (Royal/Humanitarian/AIDS Campaigner)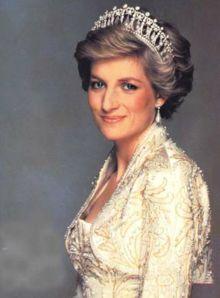 Diana, Princess of Wales, (Diana Frances née Spencer; 1 July 1961 – 31 August 1997) was a popular international media icon of the late 20th century as the first wife of Charles, Prince of Wales, whom she married on 29 July 1981.

The wedding, which was held at St. Paul's Cathedral, was televised and watched by a global audience of over 750 million people.
The marriage produced two sons, Princes William and Harry, currently second and third in line to the thrones of the 16 Commonwealth realms.
A public figure from the announcement of her engagement to Prince Charles, Diana was born into an old, aristocratic English family with royal connections, and remained the focus of worldwide media scrutiny before, during and after her marriage, which ended in divorce on 28 August 1996.
This continued in the years following her death in a car crash in Paris along with her companion Dodi Fayed and driver Henri Paul on 31 August 1997, and in the subsequent display of public mourning a week later. Contemporary responses to Diana's life and legacy are mixed but popular interest in the Princess endures.

Diana also received recognition for her charity work and for her support of the International Campaign to Ban Landmines. From 1989, she was the president of the Great Ormond Street Hospital for Children.

Elton John serenaded her thus at her funeral:
Related Articles