Hijabistas Are Islam's Fashionistas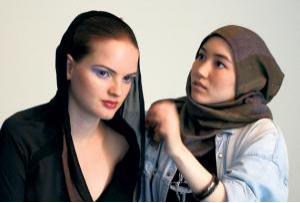 Perched on a stool in a cavernous warehouse in north London, a model with bright blue eye make-up carefully adjusts her top as a photographer works the light around her.
She is dressed in a beautiful, sleek, black satin shirt, topped off with a simple, unadorned hood.
As the photographer lifts up his camera, the model brings the hood up to cover the back half of her head. "That's it," he says, as the flash fires. "Beautiful."
Welcome to the world inhabited by the "Hijabistas", a trendy set of up and coming Muslim fashion designers who are doing their bit to forge an indigenous British Islamic identity. Until relatively recently, young Muslim women who wanted to dress according to Islamic rules of modesty (hijab) had pretty limited options.
They could either adopt the type of immigrant clothing worn by their parents, or try to cobble something together from high street chains, where modesty isn't exactly seen as a best seller, especially in the summer.
Frustrated by this lack of variety, a small number of devout young Muslims are making their own way into the fashion industry to try and provide a middle road – sleek, elegant clothing that is both beautiful and Islamic.
The seeds of this particular sartorial movement have only just begun to be sown and the number of Hijabistas in Britain can probably be counted on one hand. But their arrival heralds a shift reflected in the wider Muslim demographic of a community making their way towards the mainstream and forging their own indigenous identity.

The shoot in north London has been organised by Hana Tajima, a 23-year-old designer who founded her own clothing label with her husband Nibras.

Maysaa, an Arabic word which means "to walk with dignity", has been taking its first pre-orders online for the past two weeks and will launch fully next month.

Critics of hijab often argue that Islam shuns a woman's right to be beautiful, a myth that Tajima says she is keen to dispel.

"Islam has a really amazing definition of beauty," she says. "Hijab is about how a woman can be beautiful without placing overt emphasis on her sexuality. In western society it's quite difficult to separate the two. I design clothes that are beautiful in the way that women find each other beautiful."

Tajima made a name for herself amongst fellow Muslim fashionistas through her blog Style Covered, which receives about 2,000+ hits a day from women looking for tips on how to look good in hijab.

Click here for the full story:
By Jerome Taylor
The Independent
Photo Credit:
Susannah Ireland

Related Links:
More On Hijab On AWR
Related Articles