Girls Learn International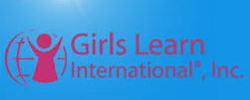 Girls Learn International®, Inc. gives American girls a voice in the movement for universal girls' education.
Girls Learn International®, Inc. (GLI) pairs American middle and high school-based chapters with international partner schools in countries where girls have traditionally been denied access to education.
The GLI Program:
Promotes cross-cultural understanding and communication;
Gives girls the opportunity to explore issues affecting other girls in the context of global human rights; and
Trains girls to be leaders and advocates for positive social change!
The GLI Program supports the empowerment of American students as they discover that through their own creative initiatives, dedication and passionate leadership, students can create real solutions that address the obstacles facing girls and women in developing countries and be leaders in the movement to affect positive change for girls and women worldwide.
Related Articles