Erin McKean Redefines The Dictionary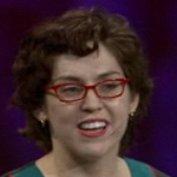 Is the beloved paper dictionary doomed to extinction? In this infectiously exuberant talk, leading lexicographer Erin McKean looks at the many ways today's print dictionary is poised for transformation.
Much to Erin McKean's delight, her job as editor in chief of the Oxford American Dictionary involves living in a constant state of research.
McKean searches high and low -- from books to blogs, newspapers to cocktail parties, The New Scientist to Entertainment Weekly -- for new words, new meanings for old words, or signs that once-favored terms have fallen out of use. ("Information Superhighway," anyone?) And it's clear that she relishes the hunt.
McKean is also the editor of the language quarterly Verbatim ("language and linguistics for the layperson since 1974") as well as the author of multiple books, including That's Amore and the entire Weird and Wonderful Words series. All that, and she maintains multiple blogs, too: Erin is the keen observationalist behind A Dress a Day and Dictionary Evangelist.
Susan notes: This talk by Erin McKean is one of the most delightful TED talks I have yet seen. She is clever, witty, and funny. She uses analogies, innovative turns of phrases, creative ideas and jest to maximum effect. She LOOKS interesting, she SOUNDS out of the ordinary.

She employs WORDS, the tools of her trade, masterfully. She makes her ideas incredibly "sticky" using bold off-the-wall connections with superb images to illustrate them.
She obviously LOVES what she does. She is clearly passionate about her profession. She brings to life a topic that many might think dull and boring – suddenly words and dictionaries are living, breathing, evolving beings that captivate our imagination.

These are all the things she does SO right. But she could be even better, more impactful, more powerful in her delivery. As a public speaking trainer and coach, I can see how – can you?
Related Articles