Christina Rossetti (Poet)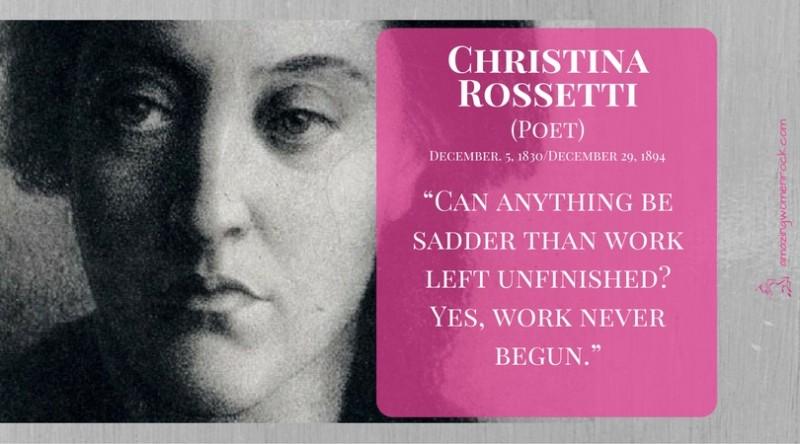 A diamond or a coal?
A diamond, if you please:
Who cares about a clumsy coal
Beneath the summer trees?
A diamond or a coal?
A coal, sir, if you please:
One comes to care about the coal
What time the waters freeze.
Christina Georgina Rossetti(5 December 1830 – 29 December 1894) was an English poet who wrote a variety of romantic, devotional, and children's poems. She is famous for writing Goblin Market and Remember, and the words of the Christmas carol In the Bleak Midwinter.
Christina Rossetti was born in Charlotte Street (now 105 Hallam Street), London, to Gabriele Rossetti, a poet and a political exile from Vasto, Abruzzo, and Frances Polidori, the sister of Lord Byron's friend and physician, John William Polidori. She had two brothers and a sister: Dante became an influential artist and poet, and William and Maria both became writers. Christina, the youngest, was a lively child. She dictated her first story to her mother before she had learned to write.

The collections Goblin Market (1862) and The Prince's Progress (1866) contain most of her finest work. Her Sing-Song (1872; enlarged 1893), a collection of nursery rhymes, is among the most outstanding children's books of the 19th century.
Related Articles