Christa McAuliffe (Teacher/Astronaut)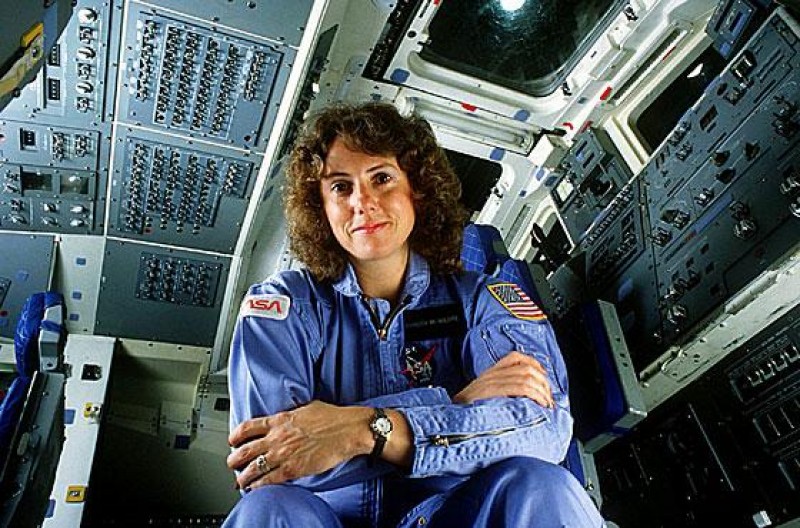 Christa McAuliffe (September 2, 1948 – January 28, 1986) was an American teacher from Concord, New Hampshire, and one of seven crew members killed in the Space Shuttle Challenger disaster.
She received her bachelor's degree in education and history from Framingham State College in 1970, and a Master of Arts from Bowie State University in 1978. She took a teaching post as a social studies teacher at Concord High School in New Hampshire in 1982.
In 1985, McAuliffe was selected from more than 11,000 applicants to participate in the NASA Teacher in Space Project (capacity as a kind of Spaceflight participant), and she was scheduled to become the first teacher in space. As a member of mission STS-51-L, she was planning to conduct experiments and teach two lessons from Space Shuttle Challenger.
On January 28, 1986, her spacecraft disintegrated 73 seconds after launch. After her death, schools and scholarships were named in her honor, and in 2004 she was awarded the Congressional Space Medal of Honor.
NASA hoped that sending a teacher into space would increase public interest in the space shuttle program, and also demonstrate the reliability of space flight at a time when the agency was under continuous pressure to find financial support. President Reagan said it would also remind Americans of the important role that teachers and education serve in their country.
The Council of Chief State School Officers, a non-profit organization of public officials in education, was chosen by NASA to coordinate the selection process. Out of the initial applicant pool, 114 semi-finalists were nominated by state, territorial, and agency review panels. McAuliffe was one of two teachers nominated by the state of New Hampshire. The semi-finalists gathered in Washington, DC from June 22–27, 1985 for a conference on space education and to meet with the National Review Panel that would select the 10 finalists.
On July 1, 1985, McAuliffe was announced as one of the 10 finalists, and on July 7 she traveled to Johnson Space Center for a week of thorough medical examinations and briefings about space flight. The finalists were interviewed by an evaluation committee composed of senior NASA officials, and the committee made recommendations to NASA Administrator James M. Beggs for the primary and backup candidates for the Teacher in Space Project. On July 19, 1985, Vice President George H. W. Bush announced that McAuliffe had been selected for the position. Another teacher, Barbara Morgan, served as her backup. According to Mark Travis of the Concord Monitor, it was McAuliffe's manner that set her apart from the other candidates. NASA official Alan Ladwig said "she had an infectious enthusiasm", and NASA psychiatrist Terrence McGuire told New Woman magazine that "she was the most broad-based, best-balanced person of the 10."
In the autumn of that year, McAuliffe and Morgan each took a year-long leave of absence from teaching, in order to train for a space shuttle mission in early 1986. (NASA paid both their salaries.) While not a member of the NASA Astronaut Corps, McAuliffe was to be part of the STS-51-L crew, and would conduct experiments and teach lessons from space. Her planned duties included basic science experiments in the fields of chromatography, hydroponics, magnetism, and Newton's laws. She was also planning to conduct two 15-minute classes from space, including a tour of the spacecraft, called "The Ultimate Field Trip", and a lesson about the benefits of space travel, called "Where We've Been, Where We're Going, Why." The lessons were to be broadcast to millions of schoolchildren via closed-circuit TV.
After being chosen to be the first teacher in space, McAuliffe was a guest on several television programs, including Good Morning America, the CBS Morning News, the Today Show, and the Tonight Show Starring Johnny Carson. She had an immediate rapport with the media, and the Teacher in Space Project received tremendously popular attention as a result.
Related Articles