Anousheh Ansari (Entrepreneur/Space Explorer)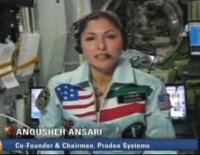 On September 18, 2006, Anousheh Ansari captured headlines around the world when she became the first female private space explorer, the fourth private space explorer, and the first astronaut of Iranian descent.

Born in Iran, Ansari immigrated to the United States as a teenager who did not speak English.

She earned a bachelor's degree in electronics and computer engineering from George Mason University, followed by a master's degree in electrical engineering from George Washington University.

She has an honorary doctorate from the International Space University, and is currently working toward a master's degree in astronomy from Swinburne University.
Ansari is a serial entrepreneur and co-founder and chairman of Prodea Systems. Prior to founding Prodea Systems, Anousheh served as co-founder, CEO and chairman of Telecom Technologies, Inc. The company successfully merged with Sonus Networks, Inc., in 2000.
She currently works to enable social entrepreneurs to bring about radical change globally, with organizations such as X Prize, ASHOKA and the PARSA Community Foundation.
She believes the key to a better future for humankind is in the hands of our young generation. She is a gifted inspirational speaker who motivates others through stories about her own experiences.
Related links:
www.anoushehansari.com
Wikipedia