Acid Attack Survivor Katie Piper's Beautiful Face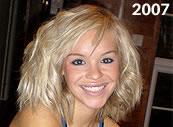 Susan notes: Barely concious, unable to speak, and in excruciating pain after having had sulphuric acid thrown in her face, 25-year-old model and TV presenter Katie Piper wrote a two-word note to her mother in 2008. "Kill me," it said.

Two years later, Piper created a foundation to help burn victims, is leading a full and happy life and is an inspiration to all whom she meets.
Her story proves beyond a doubt that what doesn't kill you makes you stronger. The six-part documentary below is fascinating, each segment is a little less than 10 minutes long. Watch it. You won't regret it...
Katie Piper is a beautiful, young woman rebuilding her life after surviving a brutal attack where sulphuric acid was thrown in her face, in March 2008.
Before the attack, Piper was a model and budding TV presenter with a hectic social life and a glowing future in the public eye. More than two years on with over 40 operations and countless treatments and therapies, Piper faces personal challenges daily, but she is back in control, living her life.
"I am proof that disfigurement doesn't have to destroy lives," Piper says.

Danny Lynch asked Piper on a date via Facebook, but just two weeks into the relationship things went horribly wrong. Lynch became aggressive after a night out and Piper endured eight hours of rape and abuse.

With death threats from Lynch, she was too scared to report him to the police and instead locked herself in her flat for three days. Lynch bombarded her with calls and messages and in a desperate attempt to get him out of her life she believed his pleas that if she read an email from him he would leave her alone forever.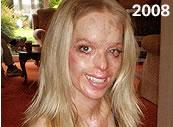 As she left her flat to head to an internet café, a man approached holding a cup. Thinking he was a beggar, Piper reached into her bag for money.

In a split second 19-year-old Stefan Sylvestre threw a cup of sulphuric acid in her face.

The acid destroyed all the skin on Piper's face, neck and hands, and left her blind in one eye. It also burnt her nose and throat so severely that she needed to be fed through a tube in her stomach and now regularly has operations to dilate her esophagus as the scar tissue reforms and restricts her ability to eat and drink.

Surgeons, led by Mr Mohammad Ali Jawad FRCS, performed pioneering surgery on Piper. He chose to control the damage by removing the dead layers of skin from Piper's face and rebuilding the foundations using a dermal substitute called Matriderm along with huge skin grafts from her back and buttocks. It's the first of its kind in the world to be done as a single stage operation.

Piper spent seven weeks in the burns unit at the Chelsea and Westminster Hospital. She was placed in an induced coma and spent ten days in intensive care. She wore a special plastic pressure mask for 23 hours a day for two years, in an effort to flatten her scars.

The attack ruined Piper from the inside out. Like many, she believed her life was over now that she was a burns victim.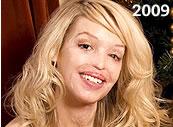 As well as her NHS care in Britain, Katie was sent to a specialist rehabilitation centre in France, Centre Ster in Lamalou, which had a huge impact on her recovery, both mentally and physically.

At home her days were filled with specialist scar management routines. She relied on her mum and dad for help but thanks to the outstanding treatment she had and her incredible determination, Piper has made amazing progress and no longer feels that her burns define her.

"Now, I'm happy with who I am, and I've learnt it's ok to be me and that scars don't mean I am unattractive," Piper says.

Lynch and Sylvestre both were sentenced in April 2009. Lynch was given two life sentences, and will serve at least sixteen years in jail. Stefan Sylvestre received a 12-year sentence, with a minimum of six years behind bars.
Katie – My Beautiful Face Six-Part Documentary
Part 1
Part 2
Part 3
Part 4
Part 5
Part 6

The above documentary was nominated for a BAFTA (see Piper BAFTA interview here); she also spoke with WorldNews in this interview:


Thanks to:
AWR Facebook Fan & Friend Reevah A
Related Articles