Achan Grace Finds Hope And a Home With BeadforLife
Story & Video by Vicky Collins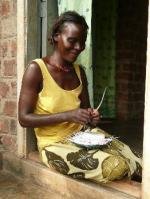 Achan Grace crosses the threshold of the home she built with her own hands, falls to her knees and wails. Moments later, she ululates and dances with joy.

It's a scene that no one, especially Grace herself, would ever have dreamed possible.

Three years ago, this mother of five begged for work. She feared she would die from sickness and starvation, leaving her children with nothing.

Today, she is one of several hundred women who earn an income making beautiful bead jewelry from recycled magazine paper, and selling it to eager buyers in North America. Now she makes enough money to feed her family and send her children to school.

She feels sufficiently wealthy to take in a baby that someone else has abandoned, even though she already has five children of her own. She has named the rescued infant "Gift from God."
"I am lucky in life," she says. "And this baby is also lucky that someone found him. Otherwise he would have died."

"I can afford to take care of him," she says with a smile. "Whatever I earn, I share with all the children."
A Story of Economic Empowerment
Using the income from beading, Grace saved 1.2 million shillings for a down payment on a house, something previously unheard of for women living in the slums of Kampala. She was among the first to build her own sturdy home in a one-of-a-kind inter-tribal village that is a model in the fight against global poverty.

Achan Grace's success story is a testament to a women's movement that reaches from the slums of Uganda to North America and back again. It's a story of hope, joy and economic empowerment, and it's centered around an innovative initiative called BeadforLife.

Hundreds of thousands of Ugandan families have been displaced by a 19-year-long civil war that has created 1.5 million refugees. Conflict, disease, hunger, homelessness and entrenched poverty have crushed those who live in Uganda's most destitute areas.

Life in the slums of Kampala is particularly devastating. Suffering is so endemic that no one goes untouched. Many people are HIV positive and suffer from malaria, tuberculosis and starvation. Children die of hunger. There is no running water or electricity. Illiteracy and unemployment are rampant.
Chance Encounter Creates Hope
Against this backdrop of human misery, a chance encounter between women has created a chain of compassion that spans two continents and gives Ugandan women and their families hope for a better life.

It all started when three expatriate American women decided to take a walk through a Kampala slum.

As they walked, Torkin Wakefield, Ginny Jordan and Devin Hibbard (all of Boulder, Colorado, and all living in Uganda at the time), bore witness to the AIDS epidemic, the poverty and the devastating hardships that continue to cripple much of Africa today.

They saw Millie Grace Akena and other women in the Acholi slum making beads from used magazines. (The only other income-generating option was crushing rocks by hand for $1 a day at the nearby quarry.)

Wakefield and Jordan bought some of Akena's necklaces. That purchase was the seed that would lead them to establish BeadforLife, a non-profit organization dedicated to helping Ugandan women and their families rise above poverty and despair.
BeadforLife Partnership Benefits All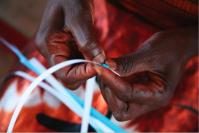 Today hundreds of women such as Achan Grace, Namukasa Rose and Sarah Ndagire roll recycled pager into colorful beads, which they string into necklaces, bangles, and anklets. The jewelry is sold by North American women at beadware parties in private homes.

All the profits go back to the beadermakers, their families and their communities, to help improve survival, health care, vocational education and housing. The program has been so successful that 100 women now have homes of their own in BeadforLife's Friendship Village located outside of Mukono, Uganda.

BeadforLife proves that we can collaborate to build economic bridges between impoverished and more economically privileged peoples. The flow of energy blesses everyone.

Through the unique partnership of BeadforLife, Ugandan women create products that are exported to North American women. During the beadware parties, the buyers learn about courage of the beadmakers, and their daily struggles to simply survive.

The partnership goes beyond empowerment, caring and mutual respect between cultures. It demonstrates that socially responsible collaboration can create jobs, maintain families and communities and evolve into a model of sustainable economic development.

In a matter of a few years, Achan Grace and many other women like her have gone from death's door to the doors of their own homes, built with their own hands, through their own resourcefulness and hard work. Together, women are mobilizing hearts and hands to create a more equitable world, and loosen the grip of poverty – one bead at a time.

Here's one of several excellent BeadforLife videos produced by AWR member Vicky Collins.
Related Articles