5 Best Quick & Easy B&B Recipes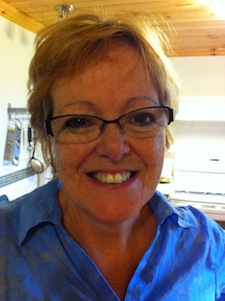 Guest blog post by Marcelle Leclerc.
As the owner/manager (as well as chief cook and bottle washer) of a busy B&B in picturesque southeastern Quebec, I don't want to spend a lot of time cooking breakfasts – I have too many other things to do!
But I also want my guests to have the best of everything, including a delightful start to the day.
It's part of my commitment to making their visit to Gîte La Marmotte memorable.
Every one of my guests should leave feeling he or she experienced something special, including tasty, healthful, home-made meals. For me, a great breakfast dish comprises fresh ingredients, is fast and easy to make, looks mouth-wateringly good on the plate, and of course tastes delicious.
Since opening Gîte La Marmotte in 2011, I've had fun experimenting with a host of recipes that meet those criteria.
These are five of my favourites. I hope you enjoy them as much as my guests and I do.
1) Croque Matin (a morning version of Croque Monsieur!)
Preparation time: 10 minutes
Cooking time: 22 minutes at 200 C (400 F)
Makes: 6 portions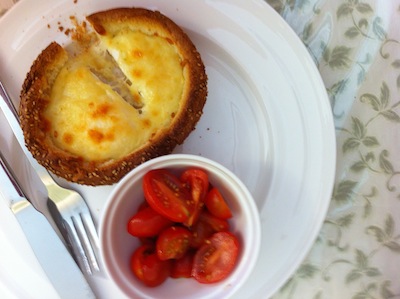 Ingredients:
6 Kaiser buns with sesame seeds
6 slices of ham
6 eggs
Grated cheeses (provolone, mozzarella, parmesan, emmental) to taste
Preparation:
Preheat oven to 200C (400 F)
Hollow out Kaiser buns
Put one ham slice in the bottom of each hollowed-out Kaiser buns, crack an egg on top of the ham. Sprinkle with salt and pepper, top with grated cheeses.
Bake for 22 minutes in the oven (a bit longer for well-cooked eggs)
Partner with a cherry tomato salad dressed with Balsamic vinaigrette. Yummy!
2) Strawberry "Clafoutis"
Preparation time: 30 minutes
Cooking time: 25 - 30 minutes for cups, 40 minutes for 8 x 10 pan
Portions: 8 - 10 portions (cups)
Ingredients:
3 eggs
250 ml (1 cup) cream (15%)
60 ml (1/4 cup) maple syrup
125 ml (1/2 cup) brown sugar
185 ml (3/4 cup) all-purpose flour
125 ml (1/2 cup) whole wheat flour
5 ml (1 c. à thé) baking powder
1 ml (1/4 c. à thé) salt
500 ml (2 cups) strawberries, washed and cut (for decoration)
80 ml (1/3 cup) slivered almonds (for decoration)
A small amount of butter and flour for the cups or pan
Preparation: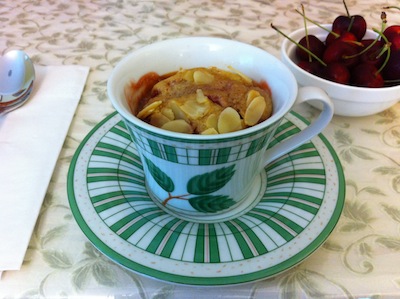 Preheat oven to 200 C (400 F.)
Butter and flour the cups or pan
Mix the dry ingredients together (except the almonds). Mix the wet ingredients together (except the strawberries). Add the dry mix to the wet mix and stir well.
Fill cups (or the pan) to 2/3 full, decorate with strawberries and almonds.
Place the cups on a baking sheet, and bake for 25 – 30 minutes. (Bake in a pan for 40 minutes.)
3) Gîte La Marmotte "House" Granola
Preparation time: 10 minutes
Cooking time: 30 - 40 minutes
Makes about 8 Cups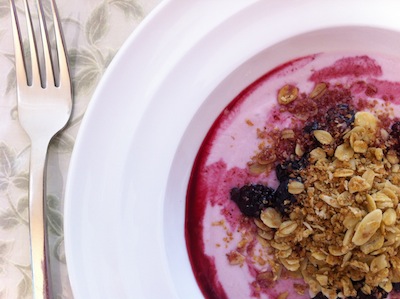 Ingredients
3 cups oatmeal
1 cup oat bran
1 cup wheat germ
1 cup slivered almonds or pumpkin seeds or walnuts
1 cup coconut flakes (sugared or not)
3/4 tsp salt
2/3 Cup maple syrup or honey (I prefer maple syrup)
1/3 Cup canola or olive oil
1 tsp vanilla
Preparation:
Preheat the oven to 160° C /300° F. Cover the bottom of a baking pan with parchment paper
Put all ingredients in a large bowl and mix well.
Spread the mix in the pan and bake 30 to 40 minutes, stirring every 10 – 15 minutes. Watch carefully to ensure the cereals don't get overly browned.
Allow to cool and keep in tightly sealed containers.

Use as a breakfast topping for plain or fruit-flavoured yogurt, or fresh fruit.
4) Eggs in Ham Cups
Preparation time: 15 minutes
Cooking time: 14 - 16 minutes
Makes 8 servings
Ingredients:
8 x 15 cm (6 inches) in diameter slices Black Forest ham
8 eggs
8 slices bacon
Salt and pepper
Preparation:
Preheat oven to 350 C
Butter 8-muffin muffin tin
Line each muffin holder with a slice of ham (hint: cut the ham so you can overlap it)
Break an egg into each ham-lined muffin holder.
Bake 14 to 16 minutes or until the desired level of "doneness" is achieved.
Serving suggestion:
Serve with toasted and buttered English muffins and strawberry jam.
5) Super Easy Crêpes
Preparation: 10 minutes
Cooking time: 4 minutes
Makes 10 small crêpes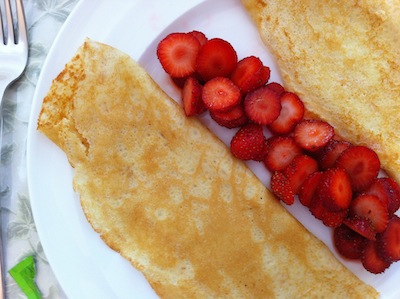 Ingredients:
4 large eggs
2 Cups all-purpose flour
½ tsp salt
2 Tbsp sugar
3 cups milk
2 Tbsp melted butter
Preparation:
Beat the eggs. Add milk, sugar, melted butter, salt and flour. Mix well. Let stand 5 minutes. Grill in hot skillet using a little butter and olive oil.
Serving suggestion:
Accompany with fresh strawberries, blueberries, or applesauce, and maple syrup.
Bon appétit!
Related Articles