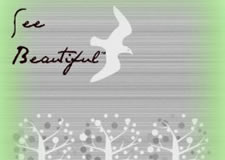 Guest blog post by Lydia Criss Mays, Ph.D.
If you live in the United States, you know November has a focus on giving thanks, specifically on Thanksgiving Day.
If you live outside of the USA, think lots of turkey basting, potato mashing, parade watching, and camaraderie. The "thanks giving" part of Thanksgiving Day got us thinking about ways to see beautiful.