Marlene Dietrich (Actress/Singer)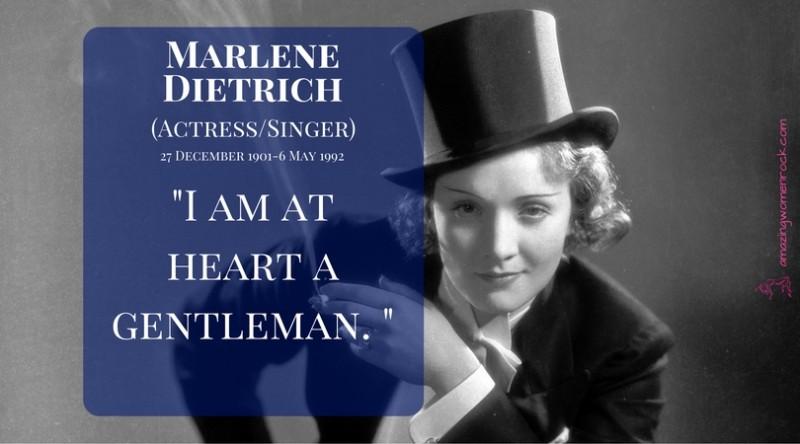 Like many other amazing women entertainers of the twentieth-century, Marlene Dietrich was beautiful, charismatic and willful.
She began reinventing herself from the age of about 11, when she created the name Marlene (pronounced mar-lay-na) from parts of her two given names Marie and Magdalene.
This chameleon-like quality proved an invaluable asset during an entertainment career that spanned 70 years.
At various stages in her life, the headstrong German-born American entertainer was an aspiring concert violinist, chorus girl, cabaret artist, international stage show performer, film actress, recording artist, fashion and screen icon, and political activist of sorts.
She entertained American troops abroad during World War II, for which she was awarded the Medal of Freedom by the U.S. Government; she also was made a chevalier (later commandeur) of the Légion d'Honneur by the French government.
And she was a amazing woman in so many other ways.
Although she was a fashion leader and icon to the top designers of the time, known to wear daringly sheer costumes in her shows, she once famously said: "I dress for myself. Not for the image, not for the public, not for the fashion, not for men."
"Falling in Love Again (Can't Help It)," the song for which she will likely always be identified and which she sang thousands of times, was one she herself was said to hate.
She was married once only, to director Rudolf Sieber from 1923 until his until his death from cancer in 1976. However, she was known to have had numerous affairs with both men and women including Maurice Chevalier, Tallulah Bankhead, and Yul Brunner. She is also said to have maintained contact with her husband's mistress, with whom he lived on a ranch in California.
Dietrich's show business career ended for the most part in 1975 when she broke her leg during a stage performance in Sydney, Australia.
Despite being bedridden and housebound in Paris during the last decade of her life, it's believed that she kept in contact with world leaders such as Ronald Reagan and Mikhail Gorbachev, running up monthly telephone bills in the thousands of dollars.
Marlene Dietrich died peacefully of renal failure on May 6, 1992, at the age of 90 in Paris. She was survived by her only daughter Maria Elisabeth Sieber, and one grandson.
Although a German concert engagement in 1960 elicited mixed response with the German public, a postage stamp bearing Dietrich's image was issued in 1997 and she was made an honorary citizen of Berlin in 2002.
Click here for other interesting pop culture references to this amazing woman.
Related Articles