Ilhan Omar (Politician/State Representative/Refugee)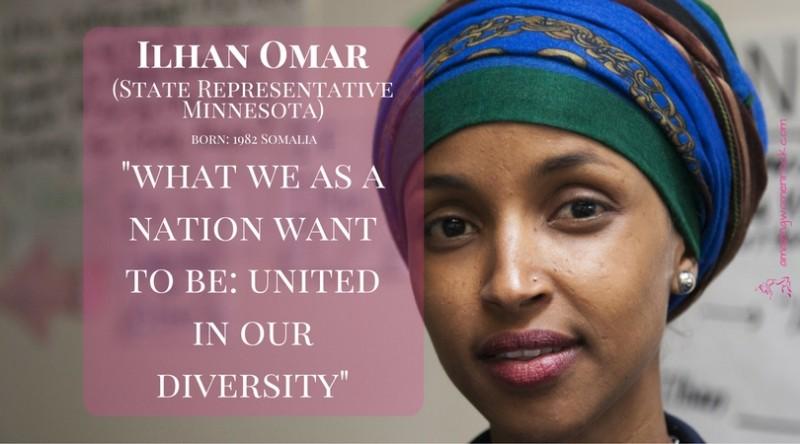 Omar was born in Somalia in 1982. After the start of the civil war in 1991, she and her family left the country and spent four years in a refugee camp in Kenya. In 1995, Ilhan and her family emigrated to the United States. She was raised by her father and grandfather, who inculcated in her the importance of democracy.
The Omars initially settled in Arlington, Virginia.In 1995, she and her family moved to Minneapolis, where Ilhan quickly learned English in only three months. She also began to accompany her grandfather to caucus meetings at age 14, serving as his translator. Omar attended North Dakota State University, graduating with bachelor's degrees in political science and international studies.
In 2016, Omar presented herself as a legislative candidate on the Democratic–Farmer–Labor Party (DFL) ticket for the Minnesota House of Representatives. Her chief opponent in the general election was Republican Party nominee Abdimalik Askar, also an activist in the Somali American community. In late August, Askar announced his withdrawal from the campaign due to the death of his father and graduate studies.
On August 9, 2016, Omar defeated Phyllis Kahn and Mohamud Noor in the DFL primary to become the nominee for the 2016 Minnesota House election for district 60B. She later won the election in November 2016 to become the first Somali American legislator in the United States.
Related Articles